Environmental Education with
The Private Eye
---
"You won't bother to save something unless you first care about it. The Private Eye allows you to care quickly and deeply."
— Kerry Ruef , founder and director of The Private Eye, author of
The Private Eye: (5X) Looking Thinking by Analogy

"The Private Eye opens up a new world to people of all ages and makes us want to probe the micro-world, a place we often dismiss. The song lyric puts the Private Eye in context – "When you are young and always looking at the far side of the hill, you might miss the fairest flower standing by you very still." We have before us the macro world in which we choose to concentrate, with a whole new world of infinite pieces, a flower if you will, that we can readily see with the aid of Private Eye."
— Dr. Joe Baust,
Past President of the North American Association for Environmental Education

____________________________________________________
Fourteen Reasons Why The Private Eye is so "GREEN"
The Private Eye is the ultimate Green Machine when it comes to enviromental impact. We're talking carbon toeprint and smaller. Fourteen reasons why.....

____________________________________________________

INVESTIGATIONS:


A Dose of Nature (with The Private Eye) as Good as a Dose of Medicine?


Ecology-based Field Trips with The Columbia Gorge Ecology Institute (CGEI)


Reports from Far and Wide


Project Learning Tree Correlations


"Connecting Children with Nature: Using The Private Eye at Summer Camp"



The following environmental organizations use The Private Eye
in their pursuit of discovery!
ACE (Arlingtons for a Clean Environment) Arlington, VA

Ageya Wilderness Education, Anchorage AK

Albemarie-Pamlico National Estuary Program, Raleigh NC

Aldridge Botanical Gardens, Hoover AL

Arizona State Parks, Nogales AZ

Big Sky Institute, Bozeman, MT

Calaveras Big Trees State Park, Arnold, CA

California Academy of Sciences, San Francisco, CA

Carrie Weedon Science Center, Edgewater, MD

Center for Environmental Education, Murray State Univ., KY

Coahoma Soil & Water Conservation District, Clarksdale MS

Crow's Neck Environmental Ed. Center, Tishomingo, MS

Culture & Heritage Museums, Rock Hill, SC

Cypress Basin Master Naturalist,Jefferson, TX

Darby Creek Metro Park, Galloway OH

The Discovery Museums, Acton, MA

Dyken Pond Nature Center, Cropseyville NY

Edventure Children's Museum, Columbia, SC

Exploratorium, San Francisco, CA

First Hand Learning, Inc., Buffalo, NY

Friends of the National Wildlife Refuges of Rhode Island

Fuku-Bonsai Cultural Center, Kurtistown, HI

Golden Gate National Recreation Area, San Francisco, CA

Heard Natural Science Museum, McKinney, TX

Kansas City Community Gardens, Kansas City MO

Kenai National Wildlife Refuge, Soldotna, AK

Lancaster County Conservancy, Lancaster, PA

Lawrence Hall of Science, GEMS, Berkeley, CA

Legacy, Inc. Partners In Environmental Education, Montgomery, AL

Lewis Ginter Botanical Garden, Richmond, VA

Lower Columbia River Estuary Partnership, Portland, OR

Madison County Soil and Water, Canton, OH

McWane Science Center, Birmingham, AL

Mitchell Lake Audubon Center, San Antonio, TX

Montana Natural History Center, Missoula, MT

Montgomery County Extension, Stanton, IA

Morehead Planetarium and Science Center, Chapel Hill, NC

MSU Wildlife & Fisheries, Mississippi State, MS

The Mountain Lake Conservancy, Pembroke, VA

Museum of Science, Boston, MA

Nansemond River Preservation Alliance, Sulfolk, VA

National Audubon Society

National Park Service, Yosemite CA

National Park Aquariums, Roanoke Island, NC

Naturebridge Golden Gate, Sausalito, CA

North Carolina Museum of Natural Science, Raleigh, NC

NRCS (National Resources Co nservation Service), Greenwood MS

Port Townsend Marine Science Center, Port Townsend, WA

OBUGS, Oakland, CA

Ravenwood Natural Science Center, Big Fork, MT

Real School Gardens, Fort Worth TX

Red River National Wildlife Refuge, Bossier City, LA

Rivers and Birds, Arroyo Seco, NM

River of Words, Berkeley, CA

Salt Lake Center for Science Education, Salt Lake City, UT

San Diego Natural History Museum, San Diego, CA

Sandy Cross Conservation, Calgary, AB, Canada

Sargent Center for Outdoor Education, Hancock, MT

Science Central, Fort Wayne, IN

School Garden Project, Eugen, OR

Shoreline Outdoor Education Center, North Guilford, CT

Sitio A Boa Terra, Brazil

Southern Oregon Land Conservancy, Ashland, OR

Sulpher Creek Nature Center, Tracy, CA

Tahoe Environmental Resource Center, NV

Tualatin River National Wildlife Refuge

US Fish and Wildlife Service, Jackson, MS

Utah Museum of Natural History

The Nature Institute, Godfrey, IL

The Walden Woods Project, Lincoln, MA

Woodland Park Zoo, Seattle, WA

Utah Museum of Natural History
"After looking through the book, [The Private Eye (5X) Looking/Thinking by Analogy] I felt like I'd walked in the front door of heaven. What really impresses me is the scientific learning that you've built into observation, and the chance to draw. I think how you've tied thinking by analogy and theorizing with the loupe is spectacular. …it would be a lot more interesting to be born with a loupe in your eye than a silver spoon in your mouth."
— Ann H. Zwinger, naturalist & author of The Mysterious Lands; Downcanyon; A Desert Country Near the Sea
"I value nature education very much and think The Private Eye Project has hit upon a great way to carry it out. The five-step process is simple but can lead in oh so many directions, limited only by the imagination of each teacher. And the guide book lists example after example to stimulate the imaginations of teachers and students alike. Finally, the specimens included are great for getting the process going. I think the principles espoused by The Private Eye process, and its creator Kerry Ruef, would enhance the education of any one at any time; it seems entirely appropriate for adult education, something I have done for 35 years. And if all kids were exposed to this process, perhaps we wouldn't be worried that there will be a last child in the woods."
— Dennis Paulson, Co-Author of The National Audubon Society Field Guide to the Pacific Northwest, Director, Slater National History Museum


---
A Dose of Nature (with The Private Eye)
as Good as a Dose of Medicine?
A number of recent studies tell us that to improve concentration, time in natural settings may be key. But what's a city kid to do?
And how do you woo even rural kids to go outside?

When you teach with The Private Eye you get—and give—a large dose of nature

Consider the implications of the two studies below,
from an article on 2/24/09 in
The New York Times:

"A small study of children with attention deficit hyperactivity disorder last year found that walks outdoors appeared to improve scores on tests of attention and concentration. Notably, children who took walks in natural settings did better than those who walked in urban areas, according to the report, published online in August in The Journal of Attention Disorders. The researchers found that a dose of nature worked as well as a dose of medication to improve concentration, or even better." http://www.nytimes.com/2009/02/24/health/24well.html?em

Another study broadens the effect of nature to apply to anyone:

"Andrea Faber Taylor, a child environment and behavior researcher at the Landscape and Human Health Laboratory at the University of Illinois, says other research suggests that all children, not just those with attention problems, can benefit from spending time in nature during the school day" http://www.nytimes.com/2009/02/24/health/24well.html?em


Whether you're urban-locked or captive in a classroom—something as simple as a sweet gum pod held in your hand, can become, in effect, a "walk outdoors in a natural setting." Under a loupe (which itself improves concentration), a natural object looms large, has trails with twists and turns and surprises. The Private Eye questions keep the observer on the trail, seeing more, making connections to the observer's own life, making the trail memorable. Because the questions allow the observer open-ended associations, it really is how the mind behaves on a relaxing walk in the woods. Whether you're inside or out, The Private Eye, used with natural objects such as leaves, flowers, seed pods, bulbs, bugs and stones—offers a double dose of concentration that, as this study suggests, may be even better, than a dose of medicine.
| | |
| --- | --- |
| | |
---



Ecology-based Field Trips with The Columbia Gorge Ecology Institute (CGEI)
The Columbia Gorge Ecology Institute, Hood River, Oregon (CGEI) takes students around the Gorge on on ecology-based field trips to their local ecosystems.

An integral part of the field trip is closely examining aquatic macro-invertebrates and examining the soil and plants of the forest or shrub-steppe.

This year, they explored with the help of The Private Eye.

The CGEI team sent this note to The Private Eye and the photos:
"Students loved using the loupes to enter into the fascinating world of the soil and water! Kids likened stonefly nymphs to dinosaurs and scorpions and yelled in delight at ant nest under rocks. Students imagined they they were the bark beetles, racing down maze-like tunnels in the logs. They went eye-to-eye with some of the more strange organisms in the environment: the lichens, mosses, and fungi."

---

Reports from Far and Wide
The Private Eye makes the first step to conservation easy. The simple tools of The Private Eye process help unlock a door to a world of wonder -- intimate, personal, intriguing, exciting. And it is easy to translate through a change of scale this caring from one part, to a whole object, to caring about the whole system on which it depends, and which in turn depends upon it. The Private Eye teaches us to care and to never stop caring about our environment--whether it's inside our minds and bodies or the world that surrounds us--efficiently and engagingly.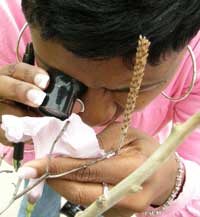 "Through The Looking Glass" Desert Ecology
Jo Falls, Tohono Chul Park, Tucson, AZ. Slideshows

"Project Learning Tree Activity Correlations
to The Private Eye"
Terri Jacobson, Wildlife Biologist & Outreach Specialist, U.S. Fish and Wildlife Service, Jackson, MS

"Grassland Managers Look Closely"

Carrie Anderson, Tofte Ranger District, Superior National Forest, MT

"UTOTES: Outdoor Classrooms and The Private Eye"

"More Sharing with Bolivian Educators"

Liz Baird, UTOTES ( Using The Outdoors to Teach Experiential Science) Program, North Carolina State Museum of Natural History

"Jeweler's Loupes as Field Microscopes"

Donna Rainboth, PEERS Program, Eastern Oregon State College

"Likin' Lichens With a Little Help From The Private Eye Loupes"
C. L. Moss, Ecological Educator, Mattole River Watershed, CA
JO FALLS
Director of Public Programs/Education Curator
Tohono Chul Park
Tucson, AZ

Almost three two years ago a local teacher introduced us to The Private Eye®. Intrigued, we found ways to adapt the program and make it our own by experimenting with a variety of projects and activities during our annual summer "desert discovery" classes. Tohono Chul Park Docents focused on observation skills and on linking what children were seeing to information about the remarkable adaptability of desert plants and animals. Last summer, we took our program on the road and offered it as enrichment programming tied to the county libraries' summer reading program.
But our greatest success has been with a remarkable, recently completed yearlong partnership with the Flowing Wells Schools.The fifth largest district in metropolitan Tucson, Flowing Wells serves just over 6,000 students in grades K through 12 .
Our collaboration involved one of the District's six elementary schools -- Homer Davis Elementary. Selected primarily because of an ongoing advisory relationship we have with the school and its teachers, Homer Davis was the perfect choice. The school plays host to its own habitat garden for butterflies and hummingbirds, and has been rated an A+ school by the state of Arizona. It is also the recent recipient of the national Blue Ribbon School award.
Funded by the Joseph Stanley Leeds Foundation and the Heritage Fund of the Arizona Department of Game and Fish, the "Through the Looking Glass" project involved the participation of one classroom from each grade level – K through 6th and special education for the course of the 2000-2001 school year. Using grant funds, each teacher was provided with his/her own copy of The Private Eye® book, along with a carry tote filled with natural history specimens for hands-on use. Each student was provided with his/her own jeweler's loupes, 3-ring notebook for organizing/storing their work, and assorted drawing materials (paper, colored pencils, watercolors, etc.).
At Tohono Chul Park, the Education Staff met with the Docent Education Committee to discuss strategies and plan a course of action. Activities surrounding the Private Eye® curriculum were assessed and those appropriate to the project were selected, along with several new lesson plans.Team Docents were recruited (21 in all) and training/planning meetings were set to make the final selection of activities and provide practice in classroom facilitation. Two to three Tohono Chul Park Docents were assigned to each of the seven classrooms to act as facilitators and exploratory guides. Over the summer Docents began collecting specimens for the classroom kits and supplies and equipment were ordered.
In early August a weekend "get-acquainted" session was scheduled for Team Teachers and Docents to meet and prepare a series of lesson plans for the first semester of school. Together, the teams devised classroom visitation schedules. Docents began visiting classrooms on a regular basis, at least twice a month, during the school year. They provided instruction in the use of the loupe, direction in basic drawing techniques and the impetus for critical thinking explorations of the items under scrutiny – everything from cactus spines and mineral specimens to pronghorn skulls and pill bugs.
"Before this program, nature was boring, but they made it fun!
It would be nice to teach other people about the world they live in."
-Homer Davis Elementary student
The overlying goal of this project was to develop hands-on resources to enhance and amplify the school's Outdoor Wildlife Habitat previously funded by a Heritage Fund Grant. Science and environmental education were the major focus of the project, but teachers found that the interdisciplinary activities and objectives used skills spanned the entire curriculum from language arts to fine arts. For example, a study of skulls and skins easily led to theories about animal adaptations. From this evolved detailed drawings of mammal dentition and creative poetry on the lives of desert animals -- from the animal's point of view.
The use of The Private Eye® tools and curriculum did allow teachers to expand their hands-on use of the Outdoor Habitat, successfully taking students from lower to higher levels of thinking and developing multiple intelligences while making the world of nature more accessible. In one class, "pocket museum" collections focusing on native plant species were collected from the Habitat. Other groups studied pollination, bird migration, habitat components, and conducted a unique pill bug exploratory study.
Hands-on learning as practiced by Tohono Chul Park provided opportunities for joint experimentation. The role of student and teacher was fluid and alternated back and forth between participants. The involvement of adult retirees, Docents at Tohono Chul Park, created an added environment of intergenerational learning that allowed for learning in a social context as well as an academic one. These 21 trained Docents used the students' natural curiosity to lead them into more structured activities, offering multiple/multi-sensory modes of learning along with active exploration and self-developed models. Traditional logical/mathematical learning was enhanced with the use of props – rather than simply discussing how a bird's feathers "zip" together, students actually pulled one apart and watched it come together again with The Private Eye® loupes.
These spatial, tactile and visual experiences provided rich imagery that complemented logical/mathematical descriptions.At the end of the first semester a mid-year evaluation session was held for the entire team to assess the success of the program. At this time suggestions were made on how to begin incorporating the Outdoor Habitat with the onset of good weather and ideas for new classroom activities were shared. This was followed by a final evaluation session at the end of the school year in May, attended by all teachers and docents, as well as the Homer Davis principal, District Superintendent and Career Ladder Director. The team discussed the entire project and determined its efficacy in meeting its stated objectives.
Both Tohono Chul Park and the Flowing Wells District awarded certificates of appreciation to all participating Team Teachers and Docents. In addition, teachers received the maximum allowable credits for Career Ladder and State certification. A presentation to the School Board in May even spotlighted several participating Team Teachers and their students.In the end, summative evaluation of this project came not only from the Team Teachers and Docents, but also as a University of Arizona graduate project.
Students from the School of Public Administration and Policy conducted an evaluation of the "Through the Looking Glass" partnership for classroom credit. To quote from their Executive Summary:
93% of participating students said they "like" or "loved" the program.

84% of participating students said that they would like to be in the program again.

Of the nonparticipating students that had heard of the program from their friends, 69% said they would like to be in the program also.

When asked what they liked about the program, several students reported that they like activities that mixed science with other disciplines such as art and history. They also like the hands-on experiences.

Participation in the program was significantly and positively correlated with better attitudes towards science and teachers reported that the program stretched the children's imaginations and piqued their interest.

78% of participating teachers reported that they learned "a lot" about the local desert at school, compared with 45% of the control group.

Teachers reported that they had never attempted nature education before the program, but now they viewed the environment as a teaching resource. There was also evidence of increased teacher mastery of natural science subjects.

Special education teachers said that the program was better able to reach their students than anything they had tried before was.
---
TERRI JACOBSON and PROJECT LEARNING TREE
Wildlife Biologist & Outreach Specialist
U.S. Fish and Wildlife Service
Jackson, MS

Terri Jacobson instructs a variety of teacher workshops, nature camps and summer library programs using The Private Eye. She also uses The Private Eye to spread her personal mission of encouraging nature time for children and getting kids excited about nature. Her workshops focus on the correlation between The Private Eye and the Project Learning Tree curriculum, and how using a Private Eye loupe and the Private Eye process can enhance many Project Learning Tree activities. Check out her neat activity sheet summarizing these correlations.
---
CARRIE ANDERSON
Tofte Ranger District
Superior National Forest, MT

Thank you for allowing me to make copies of a few pages of your "Private Eye" publication to distribute to about 20 National Grassland Managers at the Grassland Managers Conference in May of 1998. In addition, the loupes were featured during the field trip portion of the conference. Participants (grassland managers and Forest Service administrators from the national office) got down on their bellies to explore the land they manage up close. They then used that experience to make a drawing and to write poetry. It was risky business with the high bureaucrats, but they LOVED it! They kept the loupes (which hopefully will find their way to educators in their respective offices), and listed the activity as one of their favorites of the conference. Which is all a long way of saying "thank you" to you and your efforts to promote these incredible tools!
---
LIZ BAIRD
UTOTES Program
North Carolina State Museum of Natural History

The Private Eye at Summer Field Institute: In June, twenty-four educators from across North Carolina and two educators from Bolivia, South America, gathered for a week long Summer Field Institute at Blue Jay Point County Park in Wake County, North Carolina. Each of the North Carolina educators represented a school which had been a part of the "Using The Outdoors to Teach Experiential Science" (UTOTES) program led by The North Carolina State Museum of Natural Sciences and funded by the National Science Foundation. UTOTES is a teacher education program designed to improve elementary science instruction by improving school grounds for hands-on-learning. Educators learn to enhance their school grounds for wildlife and use these habitats to teach all subjects. The Summer Field Institute provides a lead teacher from each school the opportunity to develop strong leadership skills and to learn more about school grounds in North Carolina. We have had educators from Bolivia join us as a result of the Kellogg Fellows program.
The initial outdoor activity had each team of six teachers explore the grounds of the lodge, find interesting natural history items, and flag them with surveyor's tape. After marking their interesting finds, the teams shared what they found interesting with the other teachers. Each team then chose one item to investigate more fully. We called these unique natural history items "Natural History Mysteries". Each participant was given a Private Eye loupe to examine the team's "Natural History Mystery". Everyone was asked to observe the mystery item and to loupe sketch it in his or her journal. After sketching, they used The Private Eye questions to create list of ten analogies. From these observations they went into the field guides to see if they could figure out their "Natural History Mystery".
Each team then shared interesting information they learned about their items. All of the participants agreed that spending time observing and sketching their mystery item made it easier to identify later. They enjoyed using the analogies as they tried to explain the way their mystery item fit into the system. For example, the flower of the wild ginger plant was described as a "little vase". The team guessed that the vase shape would help lure small insects into the flower.
We used the loupes throughout the rest of the week in many ways: when we traveled to the Botanical Garden we looked at carnivorous plants and seeds; paddled into a local lake and louped the aquatic environment; sampled in a mini-pond and identified aquatic invertebrates; and explored a butterfly garden and examined caterpillars. The field sketches created using loupes were outstanding. Many participants have purchased class loupe sets and are reporting great success with student use. The principal at Fuquay-Varina Elementary School commented that the analogies written by her students using The Private Eye were "terrific examples of the value of learning which combines school grounds and language arts." We look forward to finding new ways to combine the unique perspective generated by The Private Eye with our commitment to helping the public gain an appreciation and understanding of the natural world.
---
LIZ BAIRD
UTOTES Program
North Carolina State Museum of Natural History
In June, twenty-four educators from across North Carolina and two teachers from Bolivia joined the North Carolina State Museum of Natural Sciences for a week long Summer Field Institute. As part of the experience every participant was given a Private Eye. They used these to observe everything from flower parts, to pond life and worm segments.
The Bolivian teachers participate because North Carolina is connected to Cochabamba, Bolivia through the Partners of the Americas organization. This workshop provides an opportunity for two teachers from Cochabamba to learn more about environmental education and take this information back to their school systems in Bolivia. The Summer Field Institute provides numerous field experiences for teachers including canoeing, visiting other school grounds and learning about plant propagation at the Botanical Garden.
The teachers keep journals recording their experiences. One of the activities the teachers did was adapted from a journaling suggestion from Bill Hammond. The teachers divided their journal page into three sections. The first section was for Observations, the second for Insights and the third for Identification. In the Observation section the teachers used the Private Eye to carefully observe a wildflower in its natural setting. They were challenged to draw in such detail that someone else would know exactly which flower they were looking at. After about 3 minutes of drawing, the teachers moved on to the Insights section of their journal. In this section the teachers recorded their feelings about the experience and answered the question of "What does it look like?" and "What else does it look like?". The last section of the journal was for Identification. Here the teachers used field guides to find out more about their plant, including the name, the scientific name and any fun information about their plant. The teachers found the progression from observation to insights to identification a good way to learn about the plant. They liked having the initial focus be on observing the plant instead of looking immediately into the field guides. They also found that making close observations made the identification easier. At the end of the workshop the teachers from North Carolina wanted send something back with the Bolivian educators. After discussing all of the possibilities they decided that a classroom set of Private Eyes would be the perfect thing to send to Bolivia. The Private Eyes would translate easily to any classroom and could be used by every student. The Museum continued to introduce other educators to the Private Eye during their summer workshops including programs at the coast and in Belize, Central America.
---
DONNA RAINBOTH
PEERS Program
Eastern Oregon State College, OR
Jeweler's Loupes as Field Microscopes: Four or 5 years ago my good friend and teaching colleague, Sharon Freeman, came home from a science conference exclaiming about the outstanding session she had attended and the great tool participants had been given at the end of the session. The session she attended was the Private Eye and the tool was a simple jeweler's loupe.
I work in Natural Resources education and facilitate several workshops each year. Every since Sharon brought that jeweler's loupe home it has become a standard tool at most of my workshops. Teachers often leave our workshops with a loupe in hand. We use the loupes primarily for viewing spiders, insects and aquatic macroinvertebrates and in using them we have made a few germane discoveries (about the loupes, not the bugs).
The Private Eye's loupes fit perfectly into film canisters. You can place the specimen you want to view (spider, ant, bug) into the canister and use the loupe as a top and as a magnifying viewer. The loupe can be slid up and down in the canister which allows you to change the focal length and consequently the focus. We use the clear or opaque canisters. The canisters are free and the loupes cost $2.30. So for less than $75 you can have a field microscope for every student in your class.
The fact that water does not harm the loupes makes them ideal for aquatic studies also. We capture aquatic macroinvertebrates such as mayfly and stonefly larva, put them into a petri dish with a small amount of water, and put the loupe right on top of the specimen. This way the critter can't move out of sight and students get a magnified view of it.
I love using the jeweler's loupes and I am pleased to be able to share our discoveries with other teachers.
---
C. L. MOSS
Ecological Educator
Mattole River Watershed, CA

Look at any ordinary, familiar object through a loupe and you suddenly drop into a world of weirdness, magic, and odd beauty. But take something in nature you might walk by everyday without noticing, something that's already weird, magical and oddly beautiful even to the naked eye (if we ever stopped to look), add the loupe, and your appreciation for the "alien" will go up exponentially!

As an ecological educator in the Mattole watershed, I visit six different schools in three separate school districts, and work with students from K-12. When I stumbled across "The Private Eye" curriculum—one of the most exciting teaching tools I'd ever seen—I couldn't wait to introduce other teachers and students to "loupe world." The loupes and questions are a terrific adjunct to any ecological program. But what to start with? So much to look at, so little time!

A teacher at Whitethorn Elementary School solved the problem. As part of a unit on Antarctica, she and her K-1 students had learned that only a few plants are tough enough to survive in that extreme environment ……including lichens. And by the way, she told her students, everywhere you look in our Mattole neighborhood you'll find tough little lichens growing on trees, roads, and rocks. Well, that was all her students needed to hear. Like wood rats foraging for exotic nesting materials, her students brought all sorts of beautiful specimens into their classroom. Old man's beard lichens (usnea), "British soldiers" (cladonia), "lung lichen" (lobaria pulmonaria) and others…...the watershed was a treasure trove of possibilities.

This is where the loupes and I entered the picture. Penny, the teacher, was the carnival barker whipping up initial curiosity and enthusiasm. I passed out the loupes, drawing paper, and pieces of lichens. The curriculum was off and running! At first, some of the students had a little trouble closing one eye. But by the second or third session with the loupes, every student was loupe-savvy. Their drawings amazed Penny and me. These little kids were sketching, in impressive detail, the little fruiting cups that characterize cladonia, and in their drawings they were doing something else very sophisticated: they were changing scale, blowing up their tiny specimens to fill the 5 by 7 inch space we had provided for their sketches. The Private Eye helped their language skills, too. These little 5 and 6 year olds had never heard the term "analogy" before, but in no time they were coming up with all sorts of great analogies for what they saw in their lichens: "It looks like a brain that got smooshed," "it reminds me of an exploded missile," "it looks like a whirlpool in the river."

Whitethorn School's 5th-7th grade teacher also brought me into his classroom to do a lichen unit using The Private Eye. Again, the students took to analogical description like it was second nature to them, which it basically was. From the time we're very young, we use analogies and comparisons (without even knowing the terms for what we're doing) to make sense of what we're seeing. "That reminds me of….." is the way we humans think, whether we're 6 or 60. We gravitate naturally to patterns and similarities between objects. The older students' drawings were also full of wonderful detail, and the kids also had fun speculating about what purpose some of the lichens' structures served.

For me, this is just the beginning of a long-term relationship between The Private Eye, ecological education, and Mattole watershed students and teachers. Lichens are great bioindicators and I can see leapfrogging with the students and their loupes to another fascinating group of bioindicators—the aquatic macroinvertebrates (insects that live in the water) of the Mattole River. For now, the students are likin' lichens, but with the loupes against their eye sockets, I figure it's only a question of time before the students will be "buggin' bugs!
"Connecting Children with Nature:
Using The Private Eye at Summer Camp"
TERRI JACOBSON,
Wildlife Biologist and Environmental Education Specialist
U.S Fish and Wildlife Service, Jackson, MS

Summer camps are one way to connect children with nature. Terri Jacobson with the U.S. Fish and Wildlife Service initiated a partnership with Millsaps College in Jackson, Mississippi to start a Nature Detectives Camp in 2009. The day camp uses The Private Eye project as a foundation for hands-on, interactive, inquiry-based learning. The campers use jeweler's loupes to examine nature up close while taking notes and drawing in their journals.
At each camp, the campers start their own Private Eye nature museum collections. One year, the campers drew their own cartoons based on Private Eye analogies. Another year, we created mini-habitats for pillbugs inside magnifying boxes. We also played analogy bingo for door prizes. Swayze McDearman, a U.S. Fish and Wildlife Service teen volunteer helps with the camp. Swayze said "the two highlights of camp are worm day and insect day. The campers get really excited interacting with the wiggling worms or when they catch their first angry bee, buzzing in a net."
Jennifer Tompkins of Millsaps College is pleased to host Nature Detectives camp and says "the College is excited about the partnership with the Service and is thrilled with the opportunity of connecting children to nature." Jennifer's daughter even attended the Nature Detectives camp where she made exciting discoveries with her Private Eye's jeweler's loupe and enjoyed all the nature journaling activities. For information on the Nature Detectives Camp, send an email to terri_jacobson@fws.gov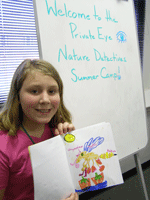 photos and report courtesy of Terri Jacobson