BEVERLY RADFORD - "Introducing The Private Eye to Costa Rica School Children"
SHIRLEY FARRELL- "IThe Private Eye and Gifted Education"
BRENDA HANCOCK - "Ooohs and Ahhhs with The Private Eye"
REBECCA MCKAY - "The Private Eye at the Cornerstone Literacy Workshop - July 2004"
VARIOUS TEACHERS - "Birmingham & Trussville, AL Workshops"
BETH SMITH & ANN BETTIS - "The Private Eye Loupe-look Rap"




SHIRLEY FARRELL
Supervisor of Gifted Education
Jefferson County Board of Education
Jefferson County, AL

After attending The Private Eye workshop, it changed the way I taught my gifted students. The students' products were incredible! Now that I am the supervisor for gifted education, I have brought Private Eye to the gifted teachers in my district. You should have seen the light bulbs turn on! They loved it!
Return to Alabama
Return to top
---
BRENDA HANCOCK
Teacher
Clay Elementary, Clay, AL

I am so excited to tell you what happened during Science time today. We are currently doing the Ecosystems Module. Today we added snails to our aquarium. Before adding them I had the students draw their snail (without loupes). When we added the loupe for the 5X look, I've never heard so many oos! and ahhhs! Then when we went to 10 I heard – "I can see eyes at the end of the antennas," "I can see _______!" "WOW! Look!!" They didn't want to stop to go to lunch (about 1.5 hours into the lesson!). I've never seen such excitement over snails!!! I'm very sorry that we're at such a high enthusiastic level and it was our last regular day of school!! I am exhausted from today, but it is an exciting, rewarding kind of exhaustion. Thank you so much for your part in all of this.
We did the Chilton County peach loupe activity last August. (They are the best peaches in the world if you get the right variety!) Shells and sand dollars were next (early September). Gourds were next (November). We did acorns and leaves that actually came from land where Davy Crockett once lived. (He is linked with out state's history.) We also did strawberries this month. They were picked from a strawberry farm close to here. We did other loupe activities, but writing and drawing was in student sketchbooks.
I have enjoyed your presentations and grown immensely as a learner from participating in The Private Eye. Thank you!                       
Return to Alabama
Return to top
---
REBECCA MCKAY
Alabama Teacher of the Year
Munford City Schools, AL

It was unbelievable. Many adults were so moved by the experience they cried. A colleague, 70 years old from London, brought back a memory from his boyhood - stimulated by looking closely at a branch of a wheat plant. The poetry was exquisite...one friend wrote a poem from her connections, and analogies with a seashell that took her back to a trip to the beach shortly after she discovered that she was pregnant and discovered she was RH-negative. [A colleague] and I are going to write an article [on The Private Eye] for our Cornerstone Connections and publish the poetry. We have asked the authors of the poetry for permission to share their work - it's a go. When we get it done we will email it to you. Thanks a million, it was a terrific success.
WORKSHOP COMMENTS
Birmingham & Trussville, AL
4/27/07 - 5/4/07

We've done many workshops in many locations over the years, and we thought we'd share a few comments from our most recent workshop:
"After fourteen years of teaching, I was kind of burned out, and this changed the way I think and will change the way I teach. A whole new way of looking at things. I needed that."
— Jamey Curlee, Teacher, 7th Grade Biology, Hewitt Trussville Middle School, Trussville, AL


"The best workshop I've been to."
— Kathy Troncale, Teacher of Language Arts 7th Grade, Hewitt Trussville Middle School, Trussville, AL


"The most high-brow professional development I've ever had."
— Beth Smith, Teacher, 5th grade (all girls class), Trussville City Schools


"The best workshop I've ever been to. I was never bored. My wheels were turning: How will I bring this back to my first grade? I want to integrate everything! This is how my own boys [sons] learn. This is the kind of classroom I want my sons in."
—Tamra Higginbotham, Clay Elementary, Jefferson County Schools, AL


"I'm so excited! The Private Eye is an opportunity to emphasize 'No wrong answer' and to open the students up. I'm going to use the Fingerprint activity next September to emphasize their individuality. It will help draw them out of their shells."
— Michelle Head, Teacher of 6th, 7th and 8th RLC English, Gifted Program, Heweytown Middle School, AL


"Awesome workshop! It'll help them [gifted students] move away from group think to more independent thinking."
— Kit Mawhinney, Teacher, Gifted Program, Grades 3-5 Jefferson County Schools, AL

Return to Alabama
Return to top
---
BETH SMITH & ANN BETTIS
Trussville, AL

Participants of our Private Eye workshop in Trussville, Alabama, came up with their own way of introducing The Private Eye to their students. Featuring Ann Bettis and Beth Smith, here's The Private Eye Loupe-Look Rap!

Click here to view with Windows Media® Player

Mac users — Download Flip4Mac® to watch Windows Media videos in QuickTime
---


JO FALLS - "Through the Looking Glass"
Click on the loupe for the Tohono Chul Slideshow tour!



GAIL PAULIN - "Tucson Teachers Report!"
EMILIE JOYCE - "Summer Programs with Loupes"

JO FALLS,
Director of Public Programs/Education Curator
Tohono Chul Park
Tucson, AZ

Almost three two years ago a local teacher introduced us to The Private Eye®. Intrigued, we found ways to adapt the program and make it our own by experimenting with a variety of projects and activities during our annual summer "desert discovery" classes. Tohono Chul Park Docents focused on observation skills and on linking what children were seeing to information about the remarkable adaptability of desert plants and animals. Last summer, we took our program on the road and offered it as enrichment programming tied to the county libraries' summer reading program.
But our greatest success has been with a remarkable, recently completed yearlong partnership with the Flowing Wells Schools.The fifth largest district in metropolitan Tucson, Flowing Wells serves just over 6,000 students in grades K through 12. Our collaboration involved one of the District's six elementary schools -- Homer Davis Elementary. Selected primarily because of an ongoing advisory relationship we have with the school and its teachers, Homer Davis was the perfect choice. The school plays host to its own habitat garden for butterflies and hummingbirds, and has been rated an A+ school by the state of Arizona. It is also the recent recipient of the national Blue Ribbon School award.

Funded by the Joseph Stanley Leeds Foundation and the Heritage Fund of the Arizona Department of Game and Fish, the "Through the Looking Glass" project involved the participation of one classroom from each grade level – K through 6th and special education for the course of the 2000-2001 school year. Using grant funds, each teacher was provided with his/her own copy of The Private Eye® book, along with a carry tote filled with natural history specimens for hands-on use. Each student was provided with his/her own jeweler's loupes, 3-ring notebook for organizing/storing their work, and assorted drawing materials (paper, colored pencils, watercolors, etc.).

At Tohono Chul Park, the Education Staff met with the Docent Education Committee to discuss strategies and plan a course of action. Activities surrounding the Private Eye® curriculum were assessed and those appropriate to the project were selected, along with several new lesson plans.

Team Docents were recruited (21 in all) and training/planning meetings were set to make the final selection of activities and provide practice in classroom facilitation. Two to three Tohono Chul Park Docents were assigned to each of the seven classrooms to act as facilitators and exploratory guides. Over the summer Docents began collecting specimens for the classroom kits and supplies and equipment were ordered.

In early August a weekend "get-acquainted" session was scheduled for Team Teachers and Docents to meet and prepare a series of lesson plans for the first semester of school. Together, the teams devised classroom visitation schedules. Docents began visiting classrooms on a regular basis, at least twice a month, during the school year. They provided instruction in the use of the loupe, direction in basic drawing techniques and the impetus for critical thinking explorations of the items under scrutiny – everything from cactus spines and mineral specimens to pronghorn skulls and pill bugs.
"Before this program, nature was boring, but they made it fun!
It would be nice to teach other people about the world they live in."
-Homer Davis Elementary student
The overlying goal of this project was to develop hands-on resources to enhance and amplify the school's Outdoor Wildlife Habitat previously funded by a Heritage Fund Grant. Science and environmental education were the major focus of the project, but teachers found that the interdisciplinary activities and objectives used skills spanned the entire curriculum from language arts to fine arts. For example, a study of skulls and skins easily led to theories about animal adaptations. From this evolved detailed drawings of mammal dentition and creative poetry on the lives of desert animals -- from the animal's point of view.

The use of The Private Eye® tools and curriculum did allow teachers to expand their hands-on use of the Outdoor Habitat, successfully taking students from lower to higher levels of thinking and developing multiple intelligences while making the world of nature more accessible. In one class, "pocket museum" collections focusing on native plant species were collected from the Habitat. Other groups studied pollination, bird migration, habitat components, and conducted a unique pill bug exploratory study.

Hands-on learning as practiced by Tohono Chul Park provided opportunities for joint experimentation. The role of student and teacher was fluid and alternated back and forth between participants. The involvement of adult retirees, Docents at Tohono Chul Park, created an added environment of intergenerational learning that allowed for learning in a social context as well as an academic one. These 21 trained Docents used the students' natural curiosity to lead them into more structured activities, offering multiple/multi-sensory modes of learning along with active exploration and self-developed models. Traditional logical/mathematical learning was enhanced with the use of props – rather than simply discussing how a bird's feathers "zip" together, students actually pulled one apart and watched it come together again with The Private Eye® loupes. These spatial, tactile and visual experiences provided rich imagery that complemented logical/mathematical descriptions.

At the end of the first semester a mid-year evaluation session was held for the entire team to assess the success of the program. At this time suggestions were made on how to begin incorporating the Outdoor Habitat with the onset of good weather and ideas for new classroom activities were shared. This was followed by a final evaluation session at the end of the school year in May, attended by all teachers and docents, as well as the Homer Davis principal, District Superintendent and Career Ladder Director. The team discussed the entire project and determined its efficacy in meeting its stated objectives. Both Tohono Chul Park and the Flowing Wells District awarded certificates of appreciation to all participating Team Teachers and Docents. In addition, teachers received the maximum allowable credits for Career Ladder and State certification. A presentation to the School Board in May even spotlighted several participating Team Teachers and their students.In the end, summative evaluation of this project came not only from the Team Teachers and Docents, but also as a University of Arizona graduate project. Students from the School of Public Administration and Policy conducted an evaluation of the "Through the Looking Glass" partnership for classroom credit. To quote from their Executive Summary:
93% of participating students said they "like" or "loved" the program.


84% of participating students said that they would like to be in the program again.


Of the nonparticipating students that had heard of the program from their friends, 69% said they would like to be in the program also.


When asked what they liked about the program, several students reported that they like activities that mixed science with other disciplines such as art and history. They also like the hands-on experiences.


Participation in the program was significantly and positively correlated with better attitudes towards science and teachers reported that the program stretched the children's imaginations and piqued their interest.


78% of participating teachers reported that they learned "a lot" about the local desert at school, compared with 45% of the control group.


Teachers reported that they had never attempted nature education before the program, but now they viewed the environment as a teaching resource. There was also evidence of increased teacher mastery of natural science subjects.


Special education teachers said that the program was better able to reach their students than anything they had tried before was.


Return to Arizona
Return to top
---
GAIL PAULIN
Secondary Science Resource Specialist
Tucson Unified School District

The Private Eye.
In Tucson ... the dusty Private Eye!
What else does it remind me of?
how one workshop led to over 2000 loupes fastened to well over 2000 eyeballs, adult & student inquiry... and enchantment!


a $2.50 journey to other worlds;


contagious fascination, linking learners at all (st)ages;


Observation, coupled with stream of consciousness creates a continuous flow of one loupe connected to one mind = a text book of infinite chapters with personal relevance. The Nature of The Tucson Private Eye.
Our first copy of The Private Eye arrived in TUSD several years ago with a note from an insightful administrator that simply said.... "Take a look at what they're doing in Seattle." It was clearly an ingenious, intriguing book; we talked about it, passed it around, louped a bit, but then were swept away in our daily hurry.

Sometime later we began a partnership with microscopist Gary Chandler, from the University of Arizona MSE department and the TUSD Science Resource Center staff. Teachers grades 7-12 were learning to operate the SEM and archive their SEM images for classroom use.

Careful observation and attention to detail are required to interpret and understand the strange and fascinating images produced. We were easily lost in the high power magnification world. How to help our students and ourselves comprehend the abstraction of objects magnified 25, 000 times or more? The need to understand changing of scale was a key.

The Private Eye, sitting on my office shelf, unlocked our solution! Just as in Kerry Ruef's account of her rediscovery of her dusty loupe (pg.5 in The Private Eye) I dusted off the book, and the SEM teachers began to explore the power of the tools within. We could encourage students to search, look closely, imagine and express their discovery in creative ways, using The Private Eye approach - and it would be the basis of scientific discovery! The Private Eye would, even for starters, allow them to experience wonder and excitement in looking closer. A simple 5X magnification provided our entree to uncharted micro worlds of mind-boggling magnifications! We had discovered a foundation for probing investigations at higher powers. The teachers and microscopists loved it! We were hooked!Not long after introducing The Private Eye, we realized our need for an in-depth exposure. By combining funds from several sources (federal and corporate grant moneys) Kerry and David were contracted to do a two day Private Eye workshop in September 1996. There is no substitute for working with the originator of a powerful concept. (An unsolicited endorsement for the wonders of Kerry & David! )

Our need to mix funding for the workshop from Title II, Title I and their Exxon Math Science grant for early education resulted in a novel mix of teachers, resource staff and university students, educators and researchers grades K-16. The interaction invigorated us. Conversations and connections revealed divergent paths toward surprisingly common goals. Each group gained a sense that The Private Eye was relevant for them. Consequently, we are becoming a very "snoopy district", poking loupes into nooks and crannies of learning, previously unconnected.

Two weeks after the first encounter with Kerry and David, the secondary teachers facilitated an introduction to The Private Eye for 125 science teachers at the district meeting. Each of the 10 sites received a Private Eye book and loupes. This one exposure has stimulated Private Eye activities in 70% of TUSD high schools. Teachers are currently requesting slots in the three Private Eye workshops scheduled this summer! Elementary teachers and resource staff initiated Private Eye connections in math, science, language arts, fine arts, and thematic workshops The message of The Private Eye transcends grade/age levels and content disciplines and is helping us focus on skills essential to learning throughout life!A potpourri of our Private Eye experience (or, What else does it remind us of - in TUSD?):
Early childhood educators, on hearing of the first PE workshop ....schedule a second workshop with Kerry & David for preschool teachers. They gained fresh personal perspective (teacher as learner) ways to focus and develop paper towel tube viewers to create a field of view for big and little folks. Enhances preschoolers exploration even without a loupe !

SEM Project, middle school teacher, Joan Manson, At Booth Fickett MS Magnet used PRIVATE EYE... result whole faculty inservice requested & presented by SRC resource Sharyn Chesser in October 96. Joan also features Private Eye in her part of the SEM presentation at NSTA Phoenix.

Loupes become standard equipment at Cooper Environmental Resource Campus, (TUSD's Outdoor Field School) thanks to Doris Evans who attended Private Eye I in September '96.

Science Resource teacher Mary Lou Rankin takes The Private Eye activities to 20 MS science facilitators ....visiting language arts resource teacher from Townsend MS is wowed! ... purchases multiple sets of Private Eyes loupes for the school .

SRC resource teacher Marleen Kotelman does workshops for teachers at Sam Hughes Elementary.

Exceptional Ed teachers, gifted and self-contained LD use Private Eye skills among students traditionally unable to focus.

University of Arizona Post Doc Uwe Hilgert wears his Private Eye loupe leash on a daily basis during his K-12 outreach activities, to model being a close-up investigator.

Education department at Arizona Sonora Desert Museum explores PE as tool for HS Young Naturalists class

Loupes are see worthy! Christa McCauliff Award winner, Marine Biology teacher Kathy Krucker, uses The Private Eye in comparative marine organisms labs At Palo Verde Magnet HS. Can you scuba with a loupe?

Sahuaro HS Earth Science teacher Ron Bernee's students loupe look at earth materials, fossils and leaves. Poetry and art emerges as part of science. After Ron's workshop experience in August he begins having dreams about life in a shrunken, in a miniature world.

Rich White, At-Risk teacher from Cholla HS borrows loupes from SRC, loves results, attends workshop, is "hooked on louping!"... now has his own class set.

Loupes invade Family Science nights at multiple sites. Parents, students and teachers explore & wonder together.

In addition to loupe looking in general and research biology sections and the magnet HS , Bio teacher Margaret Wilch includes The Private Eye in her Master's program preceptorship on insect gall and symbiosis.

Pueblo HS Chemistry teacher John Hess - his goal is to make students more aware of the parts which make up a whole. Uses loupes to engage students in more careful observation and thinking.

Pueblo HS teacher Andrew Lettes uses loupes to introduce fingerprinting in forensics unit.

Science Connectors (U of A class where science undergrads adopt a classroom for a semester) take loupes to K-12 to classes as part of their mentoring programs in over 14 schools.

Art teachers ...talking to science teachers at Sahauro HS ....want to share Private Eye!

Carillo Elementary School- Judy Darcy and Lily Olivas give PE workshop for 15 teachers grades 3-5. They also did a parent workshop using the loupes.

Menlo Park Elementary has PE workshop for teachers and teacher aides. Celia Young, a family liaison, was a presenter.

Outdoor play classes now include loupe looking as a regular part of their program.

Ochoa Elementary School holds school wide workshop for teachers/staff.

Pueblo Gardens Elementary incorporated PE in faculty workshops, outdoor play project, and a community park project where community and school members interact!

Van Buskirk teacher Amy Levin starts the morning each day with a loupe looking/writing activity in her 2/3 combo class. They have been doing this continuously since Amy attended the workshop in September! She has noted a change in students: they now take their observations very seriously! (Habits of mind!) Recently her class took a field trip to Sahuaro National Park with 6th grade loupers from Utterback MS for some close-up desert watching!

Teacher Kathy Lohse did Private Eye sharing sessions for 25 K teachers.

Louping in the future includes:
...Three additional two-day workshops with Kerry & David are scheduled for May/June 1997 providing a common denominator for linking educators from formal and informal pre K-college settings in our community... AND a desert overnight for teachers at our outdoor environmental campus.The Private Eye? What else does it remind me of now?...a powerful catalyst for interaction
...a unifying viewpoint
. ..new meaning for the phrase ...... "Let's see."...
As teachers engage in their own learning, they transcend content and system barriers; new activities flow and renewed clarity of purpose for learning emerges. My loupes now hang ready in my car, on their loupe leash, awaiting my next tour... or test drive for a fellow adventurer. Here's looking at ... whatever!
Return to Arizona
Return to top
---
EMILIE JOYCE
Interpreter
International Wildlife Museum of the Safari Club International Foundation (SCIF)
Tucson, AZ 85745

I promised to get back to you on how the use of the loupes went during our summer program. We had one of our most successful and quality programs to date after 6 years. I have to attribute that in part to the use of the loupes.

We did not use the curriculum per se, but I did my homework and read the "Science" section.

We used the loupes in conjunction with a revised schedule of fun, active games/activities based on Cornell's books "Sharing Nature with Children" and what he calls Flow Learning. The focused quiet time was often the use of the loupes to closely explore items from the theme of the day. There was a moment when the planning paid off and kids were likening popcorn to planets and hot air balloons! The children also seemed to be more comfortable with their ability to draw by looking in the loupe. Usually we have children telling us how much they can't draw.

The money spent was well worth it. We sent the loupes home with the children and I hope they offer a different perspective and a lifetime of closely examining their world. Not all the children will become scientists but I know they will all be creative, observant individuals. What more could we hope for?
Return to Arizona
Return to top
---
CALIFORNIA
TRACY WIERMAN - "Tales from a Private Eye-itinerant"
SUZANNE BRILEY - "Sheraton Hotels"
LAUREL SALVATORE - "First Poems"
TERRY FISCHER - "A Five Year Approach"
SHELLY FERNALD - "The Private Eye and Descriptive Language"
LYNDA RAQUEL - "Loupes Make Learning and Teaching Fun"
C. L. MOSS - "Likin' Lichens With A Little Help From The Private Eye Loupes"
DENISE GIDEON - "Loupe-Look Journals"

TRACI WIERMAN
Math and Gifted Specialist K-8
Redding School District
Redding, CA

As an itinerant teacher I spend much of my time on the road and look like a bag lady as I wander from classroom to classroom on the campuses at which I work. My bag is a canvas tote with red straps and one pocket on which the words "I Love Math" are tattooed. The contents of the bag include a copy of Nathan Levy's "Stories with Holes", my calendar, some pens and pencils, a bottle of drinking water, my reflective journal, "The World in a Box", 2 sets of loupes, and my Private Eye guide - everything this transient needs to carry out the daunting task of motivating and challenging the students in my charge. I am currently working to help 7 schools keep 150+ Gifted and Talented (GT) 3rd - 8th graders enthused and interested in learning what we have decided is important to teach them. There are many facets to the GT program I coordinate; one is of particular significance for this venue, and involves the 60+ GT kids on the only 6th - 8th grade campus in the district.

I began the year by teaching one period per week in a 6th grade QUEST class (our district's version of character education), a 7th grade language arts class and an 8th grade science class as a "push-in" approach to meeting the GT kids' needs. The goal was to have an opportunity to work with the GT students in their non-GT classrooms so that I could mentor the teachers using the methods I have found successful in challenging and motivating all kids. I chose "The Private Eye" curriculum as the vehicle for this delivery because it has all of the components necessary to make my goal achievable, and fortunately it fit in the bag! Using "The World in a Box," the Private Eye curriculum has connected the world of language, wonder and metaphor to the worlds of personal and social growth (6th grade QUEST), mystery novels (7th grade language arts) and astronomy (8th grade science) and provided an approach in which all students could experience the thrill of success. I have guided teachers and their students through many interesting in-class "field trips" that have strengthened the academic component they and their daily teachers have been working so hard to master.

I recall one of the 7th grade lessons that was particularly exhilarating for the students, the substitute teacher and me. We had been working with the idea that close and meticulous observation is vital to the solving of mysteries. On this particular day my bag and I arrived in the classroom and found the quote "How you see the problem is the problem" on the whiteboard. After discussing the meaning of this quote and its applicability to the world of mystery, one young man said, "Perception is reality." Both ideas are integral to any investigator; without the ability to see things from another point of view a detective can not begin to envision the possibilities that lie in the world of the mystery. Needless to say, I promptly wrote his zinger of an insight on the board next to the quote the teacher had left for us to ponder. His statement was the perfect segue into the lesson I had planned. I had no way to know that the route we would take to get to this particular lesson would be so powerful or appropriate (what I had planned was much more mundane). We then did a loupe-look on an item from "The World in a Box" and wrote "'x' is to _____ as 'y' is to me" statements (from p. 197 in the guide) with an additional "because ..." statement tacked on to the end. All students were successful in viewing a natural item from the item's perspective, as well as their own. Here's a student example:
THE WING IS TO THE CADDIS FLY AS READING IS TO ME,
BECAUSE THEY BOTH TAKE US TO NEW AND EXCITING PLACES.
---
SUZANNE BRILEY
Training Manager, Sheraton Hotels
San Francisco, CA

This is the second time I've ordered from you.
I have used some of your written material in creativity classes for our managers but have not yet incorporated the loupes into training - It's coming up. I will let you know how it goes.This set [of loupes] is for an organization I'm involved with called San Francisco League of Urban Gardeners (SLUG). We do a lot of work in schools and with underserved youth, using the garden as a classroom and as a form of therapy/communication. I'm going to give this set to S.L.U.G. to be used by their volunteers. Some of the staff members have seen your book and were excited about the ideas.

One of our projects is to put worm bins, for composting of organic wastes, in the classrooms. We've had problems with teachers following up on care for the worm bins - I think if they looked at your book they could find a lot of ways to include the composting project into their curriculum - and then the worm bin would be more successfully maintained. Funding for S.L.U.G. comes from SF Recycling and Solid Waste Management, so we are looking for lots of ways to encourage people to compost as well as do more conventional recycling. Thanks for a great resource!
---
LAUREL SALVATORE
Homeschooler
Greenville, CA

We are a homeschool family, having fun using The Private Eye Guide. I think I'm having as much fun, if not more, than my children. We have used the loupes to help us closely observe objects over the past several weeks.
The First Snowfall

The snow is dancing
As it comes down
It is like falling fog
The fog is in the valley
And the snow is sliding down
I want to go down itElena Salvatore, age 7The First SnowfallThe snow is painting the barn roofs
It is cold and white
It looks like powdered sugar
Shooting stars in the Earth's atmosphere The flakes are big like ashes from a volcano It looks like confetti falling from the sky Are the angels having a party?

— Joseph Salvatore, age 8
Bear in mind that these are the first poems they have ever written, having some kind of fear of creative writing. They were shocked to find that, as we put together their analogies into an order, that they had actually written a poem!
Hope you enjoy these, as much as we have enjoyed visiting the other work on your web page.
Return to California
Return to top
---
TERRI FISCHER
Fremont Elementary
Modesto City Schools
Modesto, CA

Many of the students I have this year have been using The Private Eye for the past 5 years. They started in 1st grade with Ms. RoseMary and have been a part of the group rotation that we do at our school. The difference I have seen in this group of 6th graders is the amount of detail they add to their drawings, and the depth they have in their lists of "what it reminds me of...." Students want to use their loupes often, not just during "loupe time." They bring in their own specimens to examine and want to explore their world more closely. Although they have been using the program for 5 years, they are still excited about it, and look forward to loupe time. They have tremendous pride in their drawings, and they should— They look amazing!
Return to California
Return to top
---
SHELLEY FERNALD
Science Specialist
Birney Elementary
Long Beach, CA

I have been using your Private Eye materials for the last 11 years with my Elementary science students, grades 1-5, including special education students. I start with my younger students to teach them about how to observe and use "descriptive language" to share about their investigation. These skills have transferred as the students move on to the upper grades. The details I receive in their lab write-ups are fabulous. I have also used your tools for years with my pre-service science method students. Your Private Eye materials are one of the best purchases I have ever made.
Return to California
Return to top
---
LYNDA RAQUEL
Teacher
Lodi Unified School District
Lodi, CA

My name is Lynda Raquel and I teach 5th grade for Lodi Unified School District. I was recently introduced to your loupes at the CSTA Conference in San Francisco, where I participated in The Private Eye workshop. I absolutely love these things and bought half a class set and the book that day! Now I would like to place an order so that I will have a full class set. When I brought the loupes home from the conference my 5-year-old and 11-year-old were equally impressed and went around the house 'louping' for 2 hours! I think they are a wonderful addition to the curriculum at any grade level and I feel teachers at my site would be receptive to learning more about them.

[updated field report follows]

I received my order and have had the chance to introduce the loupes to my class. They love them! We louped our hands and generated a list of 'looks like... reminds me of...' Then each student used his/her list to create a poem about his/her hand. And that's where we're at now. What was really exciting was watching some of my EL students realize how easy it was to turn their list into poetry. The descriptions they came up with included vocabulary that they wouldn't normally use when simply describing their hand. The analogies they used just naturally led into poetry. So now they're working on final drafts. As they finish, I'm handing them back their loupes and they are to 'loupe again' and draw an image of what they see (still the hand). Their drawn images need to relate to their poem. … My students are really into this! I'm so excited to see the end results of our first 'louping' project. … I get excited about anything that makes learning (and teaching) fun, and these loupes do it for me, and my students! … Thank you for such caring service and a wonderful product. I look forward to ordering from you again!
Return to California
Return to top
---
"Likin' Lichens with a Little Help from The Private Eye Loupes" K-1 and Middle School
C. L. MOSS
Ecological Educator
Mattole River Watershed, CA

Look at any ordinary, familiar object through a loupe and you suddenly drop into a world of weirdness, magic, and odd beauty. But take something in nature you might walk by everyday without noticing, something that's already weird, magical and oddly beautiful even to the naked eye (if we ever stopped to look), add the loupe, and your appreciation for the "alien" will go up exponentially!

As an ecological educator in the Mattole watershed, I visit six different schools in three separate school districts, and work with students from K-12. When I stumbled across "The Private Eye" curriculum—one of the most exciting teaching tools I'd ever seen—I couldn't wait to introduce other teachers and students to "loupe world." The loupes and questions are a terrific adjunct to any ecological program. But what to start with? So much to look at, so little time!

A teacher at Whitethorn Elementary School solved the problem. As part of a unit on Antarctica, she and her K-1 students had learned that only a few plants are tough enough to survive in that extreme environment ……including lichens. And by the way, she told her students, everywhere you look in our Mattole neighborhood you'll find tough little lichens growing on trees, roads, and rocks. Well, that was all her students needed to hear. Like wood rats foraging for exotic nesting materials, her students brought all sorts of beautiful specimens into their classroom. Old man's beard lichens (usnea), "British soldiers" (cladonia), "lung lichen" (lobaria pulmonaria) and others…...the watershed was a treasure trove of possibilities.

This is where the loupes and I entered the picture. Penny, the teacher, was the carnival barker whipping up initial curiosity and enthusiasm. I passed out the loupes, drawing paper, and pieces of lichens. The curriculum was off and running! At first, some of the students had a little trouble closing one eye. But by the second or third session with the loupes, every student was loupe-savvy. Their drawings amazed Penny and me. These little kids were sketching, in impressive detail, the little fruiting cups that characterize cladonia, and in their drawings they were doing something else very sophisticated: they were changing scale, blowing up their tiny specimens to fill the 5 by 7 inch space we had provided for their sketches. The Private Eye helped their language skills, too. These little 5 and 6 year olds had never heard the term "analogy" before, but in no time they were coming up with all sorts of great analogies for what they saw in their lichens: "It looks like a brain that got smooshed," "it reminds me of an exploded missile," "it looks like a whirlpool in the river."

Whitethorn School's 5th-7th grade teacher also brought me into his classroom to do a lichen unit using The Private Eye. Again, the students took to analogical description like it was second nature to them, which it basically was. From the time we're very young, we use analogies and comparisons (without even knowing the terms for what we're doing) to make sense of what we're seeing. "That reminds me of….." is the way we humans think, whether we're 6 or 60. We gravitate naturally to patterns and similarities between objects. The older students' drawings were also full of wonderful detail, and the kids also had fun speculating about what purpose some of the lichens' structures served.

For me, this is just the beginning of a long-term relationship between The Private Eye, ecological education, and Mattole watershed students and teachers. Lichens are great bioindicators and I can see leapfrogging with the students and their loupes to another fascinating group of bioindicators—the aquatic macroinvertebrates (insects that live in the water) of the Mattole River. For now, the students are likin' lichens, but with the loupes against their eye sockets, I figure it's only a question of time before the students will be "buggin' bugs!
Return to California
Return to top
---
DENISE GIDEON
Saint Mark's Episcopal School
Upland, CA

At long last, here are the sample Loupe-Look Journals that my fourth grade Students use as a year long activity.

This is a wonderful activity and students look forward to it each week. We spend 15 minutes each week looking at a variety of items that are in your kits, that I provide and, eventually, that students bring in. Each week brings a renewed sense of wonder for the students.
Each month I ask students to select one loupe-look and from that we develop a descriptive paragraph about the item using the analogies that were generated during the initial loupe-look. I have used your Private Eye text for most of these activities.
I can not thank you enough for this "program." It brings an atmosphere of scientific observation into the classroom that has impacted every area of the curriculum.
Return to California
Return to top
---
CAROLYN BURGER,
3/4th Grade Multi-age Classroom
Lincoln Orchard Mesa Elementary School
Grand Junction, CO

When I first was introduced to The Private Eye program last summer, I had no idea the impact it would have on my teaching and the children's learning in class this year. It began the first week of school when a group of children wrote a play depicting the proper use and care of the jeweler's loupes. Since then they have written wonderful poems, riddles and stories.

The children's work is kept in 3-ring binders (slipped between plastic protector sheets) organized alphabetically. They love to go back and see their own growth and share what they've done with friends and their parents (and anyone else who'll take time to listen)

.I am especially pleased with the way using The Private Eye has transferred over into the children's thinking and writing within other disciplines. Their Math and Writer's journals, research reports, and letters to pen-pals are filled with beautifully descriptive words. Many times when they share their writings in Writer's Workshop groups I hear the words, "Be more specific." and "What else can you say about..." and "I can see... with your words."Recently I applied for and received a small grant through Eisenhower funds. In March I will facilitate an in-service to train teachers in my school within our district. Several of my students will demonstrate the jeweler's loupes. I know how proud I will be when the teachers watch my children's eyes light up and expressions of the sheer joy of learning fill their faces. Then too, others will be as enthralled by the program as I have been.
---
LAURIE S. JOHNSTON - "Keeping a year-round portfolio"
BARBARA DYCHE - "Dandelion Fun"

LAURIE S. JOHNSTON
Signal Hill School
Belleville, IL

This is the second year I've used The Private Eye Program as the foundation for the Gifted and Talented program curriculum. This year I'm focusing heavily on grades 3-6. I see "Talents" students once per week. Everything the students do is kept in a drawing notebook: drawings, analogies, poetry, short stories, research, and all handouts. Students are using the same notebooks they started with last year, and many have been impressed with the progress they've made in such a short time, whether it be their drawing abilities, their analogies, etc. The notebook serves as a portfolio where students can observe their own progress as often as they like. It is also an assessment tool for me - and I like to show it to parents during conferences. I go through the notebooks regularly, xerox drawings, and copy them onto assignment reminder sheets for students in all the grade levels in the program to admire. My next step is to include these drawings in the Talents Newsletter I send home to parents several times a year.
ANNE TINKEL - "Beyond Elementary Explorations"
ANNE TINKEL - "Parents and Seashells and Loupes, Oh My!"
JULIE CONLON - "Optics with The Private Eye"

ANNE TINKEL
Study Elementary
Fort Wayne, IN

Dear Kerry and David,
I loved your inservice this summer! I began using the loupes with my students the very first day of school. They loved them! I showed them how to hold them up next to their eye, and then bring the object they were studying up into focus, or to bend down to focus.

As I mentioned this summer, my first unit of study (for 9 weeks) is observation and classification. We sorted wooden beads, shaped pasta, colored buttons, packets of play money, etc. The first 2 days, we just divided things according to shape or color. Then, I introduced texture. I had them sort shapes I had cut out of wallpaper, some of it textured. I let them examine their favorite pieces with their loupe. They loved it! I had them write in their Reflections notebook about "what else it reminds me of." Some of the wallpaper pieces evoked memories of grandma's house and some other unusual things. It was all very exciting, both for them and for me, as their teacher. The neatest thing was when we examined fancy carved beads with our loupes. I gave them each a plastic cup for a pedestal and a frame to draw in. I demonstrated how to draw to fill the frame. Some of the students did such a great job. There were at least 6 that made their drawings so precise that if I had sent you a photo of 10 of the beads, you would be able to instantly identify which bead they drew.

One of my ESL students is especially talented in his drawing, which is good, because it is very affirming for his self concept -- he has lots of difficulty with spelling when he writes, and it is very hard for me to know what he wants to communicate, and it is very frustrating for him. Just last week, we made carbon rubbings of our fingerprints. The second day, when I passed their fingerprint papers back to them, I told them we were going to examine them and classify them according to type. I said they should look closely at them and tell me what they saw. One of the kids asked, "Can we use our loupes?" Then, I had 3 students draw what they had seen. They did a pretty good job! Then, I showed them the "official" samples of the 3 types, and they were able to identify the student who had sketched that particular type! It is difficult for me to hold back -- I want to do lots more with the loupe, but I need to follow my agenda. This Thursday, we are going to the Crime Lab to see how the pros do fingerprinting. In 2 weeks, we are going to IPFW, one of the local universities, to observe and classify trees and leaves.
CAROLE GILE, Ph.D.
Associate Professor of Education
William Penn University, IA

"Undergraduate Responses to the Private Eye Loupes"
On March 28, 2005, students enrolled in the Language Arts course at William Penn University, Oskaloosa, Iowa, participated in a Loupe (The Private Eye) learning experience. Thanks to The Private Eye, each student had their own loupe and information to keep—both for the day's class and as a future reminder of the many inquiry learning possibilities offered by "Looking and Thinking by Analogy"--experiencing the world through the lens of The Private Eye loupe. Students were given a variety of nature items to study through the loupe. First they were asked to hold the loupe close to an arm and focus on the skin. Then they were asked to bring the loupe to an eye, and bring an arm or hand close until the focus was clear. An effusion of comments began: "It looks like lizard skin!" "Wow!" and "Neat!" The questions, "What else does it remind me of? look like? feel like? brought new comments: "My skin looks like leather." "It looks really different magnified!"Students chose an item to examine. Available were an assortment of seashells, sea glass, geode pieces, rocks, pinecones, and pussy willow branches. Again questions, "What do you see?" "What does it remind you of?" "Why does it look like that?" "What comes to mind to describe it?" and other similar "thinking by analogy" questions were asked. The questions stimulated questions and discussion among the students. Next students completed a loupe drawing, first looking through the loupe, then drawing what they saw. The students were invited to write their analogies down--as many descriptive words as they could. Students then wrote to put their ideas into context—it could be prose or a poem. Students were hesitant at first to share their writings, but once one student shared, they all seemed to be eager to share. Below is one I wrote while looking at a seashell:
Found you on the ground
See you in the sky
Looks like the milkyway
Looks like an eye
Stormy weather, comet's tail
Cyclonic, swirling, staring
Spy!

— Carole Gile
The following comments are representative of the class' reactions and responses to this learning experience:
Samantha: "I felt like a little kid seeing the world through a whole different perspective. I was excited to look at everything and see how it looked under the loupe. I found the process a great way to have the children write poetry. Also this is a good way to teach children about descriptive words and have them write a paragraph describing what they saw."

Lindsay: "The Private Eye process would help students show their creative side and stimulate inquiry about how things look from a different perspective."

Susan: "I loved it! It's such a neat way to discover things around you and, knowing kids, they would carry [the loupe] around everywhere and look at things. I really liked using the process for ideas for poems. I'm sure it would spark many questions in science, reading, and otherwise."

Jeanine: "It can be used for anything. It gets students interested and lets them see things are not always how they appear—there is always much more."

Chris: "I think it could be used in a positive way for poetry along with a majority of the topics covered in the classroom. It's a great way to get students involved."
These aspiring teachers were asked if they would consider advocating for a class set of loupes for their school. All responses are positive—here is a sampling:
Barb: "Yes, the loupes would be good to use in all subjects."

Deanna: "Yes, I think it would be fun for the students to go outside and observe nature with it."

Samantha: "Yes, just because I had so much fun looking through the loupe, I want my kids to experience that as well. It is also easier to teach and manage than a microscope is."

Susan: "Yes, I think these would be a wonderful asset to a classroom."
Finally, students were asked for other comments, (including thanking The Private Eye Project for the loupes). Responses include the following:
Chris: "Thanks for the fun and interesting experience with the loupe. It gives me ideas for my future teaching activities."

Deanna: "Thank you for giving me the opportunity to see how neat these are. I want my students to have the same experience I did."

Samantha: "Thank you so much! This gave me great ideas for my classroom. I appreciate the opportunity you gave our classroom!"
Later in the semester the students who experienced the loupes in the Language Arts class used them with the children they tutored as a part of their Remedial Reading course. I was pleased to see them incorporate their use in the learning experiences they planned for their tutees. This indicates to me that the students see how the loupes can encourage inquiry, and that they truly want to use the loupes in their own teaching.

I sincerely hope that making this experience available to the Language Arts students at William Penn University demonstrates to The Private Eye Project that their investment is highly valued and well worth the time and effort expended. Thank you so much for the wonderful gift of exploration and inquiry. Your interest in the students' preparation as educators is sincerely appreciated.
---
KANSAS
KAREN HORN
Post Rock Home Educators
LaCrosse, KS

LANDSCAPE

dot is like a crater
stem is like the smoke of a volcano
white like the snowcaps
like a mountain with trees
up and down like hills and valleys
cluster of mountains
pointy like a sand castle
the ground with mushrooms
like a burned forest
looks like waves
looks like grassblades
Looks like rivers running down the mountain
ash prints of volcano
looks like stone
geometric like a pyramid
like broken icebergs
chrysanthemum.

(written by Krystal Holland,
Katie Edwards, Seth Urban,
Melanie Rogers, Mark Horn,
and Nick Mitchell)
KENTUCKY
LIZ INMAN
Biology, Honors Biology, and IB HL Biology
Tates Creek High School
An International Baccalaureate SchooL
Lexington, KY 40517
(859) 381-3620
Website: www.inmanbiology.weebly.com

"I found these cool succulent flowers (from a species of Echeveria) that are around 2cm in length (small!). I typically use larger flowers, but I thought it would be cool to use the loupes to peer into this little "flower world." The kids quickly realized they could use their phones, put the loupe up the camera, and take a pretty awesome photo. The student whose photo I'm attaching figured out how to label hers (in addition to the drawing I made them do)."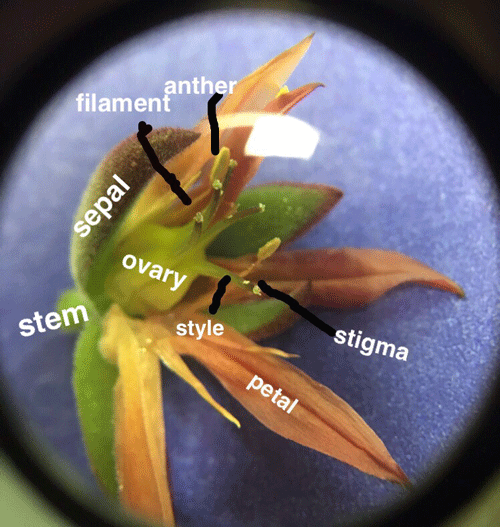 See Liz's "Seven Private Tips for Biology Teachers" here.

LOUISIANA
AMY OUCHLEY
College of Applied Sciences, Department of Biology
Northeast Louisiana University, LA

Last fall I used The Private Eye in a Math and Science Workshop for Girl Scouts at Northeast Louisiana University. I wanted to expose 4th, 5th, and 6th graders to the fascinating world of biology in a short period of time (45 minutes) using loupes to look at a wide variety of items: blue jay feathers, mussel shells, foliose lichens, shelf fungi, invertebrate fossils, dried daisies, sweet gum balls, cockleburs and cricket legs to name only a few. To assist me I trained 8 biology graduate students in The Private Eye method in a 2-hr. hands-on workshop. They enjoyed looking and creating with loupes. I modeled The Private Eye teaching strategy that I wanted them to use with the younger students.

The objective of both workshops was to look at many items and choose one that was especially interesting. The next step was to create a list of analogies [using The Private Eye approach: "What else does it remind me of? What else does it look like?]. Then students were instructed to scatter their analogies [in the form of metaphors and similes] and words on a piece of paper and web or connect them in a random fashion. Webbing can reveal new and unique connections. Next they made a rough draft of a short poem, picture, cartoon, short essay, or advertisement inspired by the webs. They created a final product on a bookmark-sized piece of cardstock (these are free leftovers from print shops). We laminated the bookmark, punched a hole, and hung it on a ribbon. Each girl wore their creation to the next session of the workshop and had a unique, visible reminder of what they experienced that day. Approximately 90% ranked this session as their favorite. The graduate students want to help facilitate other workshops. This is just one of the ways I've shared The Private Eye.
MAINE
ELIZABETH BAIRD
St. Joseph's College of Maine
Standish, ME

How exciting to call the Private Eye number and have you answer. I am still on Cloud 9. My students loved the whole story. We discussed your program, I handed everyone a copy of page 3 to 9 and told them to read it many times. I explained our phone call and handed them a page of notes I took during our conversation. Most had a loupe. I had extras to lend- nothing was going to stop us. I gave everyone a plastic bag for loupe looking materials to bring back to the classroom. It was a gorgeous day as we walked across White's Bridge Road to the farm that has just been given to the college. Jenn Caron had her digital camera charged and took photos.

Our public relations and outreach program is now housed in the early farm house. Several of the staff expressed interest in what the kids were working on so we went in to meet everyone.

Each student adopted a square foot (or more) of land to watch. March 20 was the first day of spring. There was still ice over parts of the ponds. Everyone took field notes and collected specimens. No one wanted to leave. We went back to class and read the poems my 6,7, and 8th grade students had done using a dead leaf. My students could not believe middle-schoolers had written so well.

We examined acorn hats and came up with a long list. Many of these students will be traveling to University of Maine, Orono, tomorrow for an educational conference. I also will be teaching section B of this same course tomorrow so I will have the chance to try this all again. The weather will be less sunny and it may rain...we may have to stay inside, but we'll see.

The students suggested we do a Class website around The Private Eye. It will be fascinating to see how many students will get hooked and continue the relationship with their land after the semester. Most live close enough to revisit the spot through the summer and they will be returning in the fall, so we will see.

We need to come up with a Field Study Kit. I have thought of tongue blades with each student's name printed in permanent marker to mark their spot. Will everyone really remember just where they were? Plastic bags or a box for samples. Camera. Sketch book and pencils. Something to protect against deer ticks. Something to sit on. Our ground is still wet. I want my students to come up with a form elementary students can fill in for their studies.

Much much more later and thanks again for your support.
MINNESOTA
MARY GLASNAPP
Gran Marais, MN

"I just discovered The Private Eye. I had attended an Audubon workshop and that led me to search the web for more outdoor engaging materials. I happened upon The Private Eye. I ordered the materials, read the manual over the weekend, and OMG. I've always been so paranoid about drawing. All I could do was stick figures. I read the TPE directions: Loupe-Look. Loupe-Draw… even then I felt a panic attack. Where to start? And I remembered it said, "Draw a frame" … so I started with a square frame… but then remembered the book said you could also use a circle frame… a circle might be easier.

I picked a tiny, fuzzy weed and started with the stem and I just kept going and all of a sudden I had a drawing! All weekend, I was loupe-exploring. I even got my husband involved. I was so pleased by my drawing I ended up sharing it with my co-workers at a reading workshop on Monday. It was a kind of show-and-tell of what was possible with this [Private Eye] Project. I teach science five times a week to third and fourth graders. The Private Eye blends in beautifully. Now I'm sharing The Private Eye with the K-2 teachers as well. I'm so excited about this!"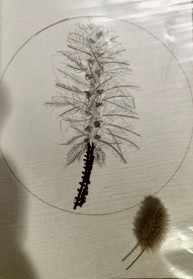 MISSISSIPPI
"Connecting Children with Nature:
Using The Private Eye at Summer Camp"
TERRI JACOBSON,
Wildlife Biologist and Environmental Education Specialist
U.S Fish and Wildlife Service, Jackson, MS

Summer camps are one way to connect children with nature. Terri Jacobson with the U.S. Fish and Wildlife Service initiated a partnership with Millsaps College in Jackson, Mississippi to start a Nature Detectives Camp in 2009. The day camp uses The Private Eye project as a foundation for hands-on, interactive, inquiry-based learning. The campers use jeweler's loupes to examine nature up close while taking notes and drawing in their journals
.
At each camp, the campers start their own Private Eye nature museum collections. One year, the campers drew their own cartoons based on Private Eye analogies. Another year, we created mini-habitats for pillbugs inside magnifying boxes. We also played analogy bingo for door prizes. Swayze McDearman, a U.S. Fish and Wildlife Service teen volunteer helps with the camp. Swayze said "the two highlights of camp are worm day and insect day. The campers get really excited interacting with the wiggling worms or when they catch their first angry bee, buzzing in a net."
Jennifer Tompkins of Millsaps College is pleased to host Nature Detectives camp and says "the College is excited about the partnership with the Service and is thrilled with the opportunity of connecting children to nature." Jennifer's daughter even attended the Nature Detectives camp where she made exciting discoveries with her Private Eye's jeweler's loupe and enjoyed all the nature journaling activities. For information on the Nature Detectives Camp, send an email to terri_jacobson@fws.gov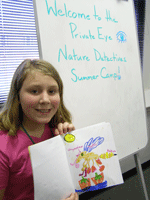 photos and report courtesy of Terri Jacobson

.
MONTANA
CARRIE ANDERSON - "The Private Eye and Grassland Management"
KATIE ALVIN - "Young Naturalists at the Big Sky Institute"

CARRIE ANDERSON
Tofte Ranger District
Superior National Forest, MT

Thank you for allowing me to make copies of a few pages of your "Private Eye" publication to distribute to about 20 National Grassland Managers at the Grassland Managers Conference in May of 1998. In addition, the loupes were featured during the field trip portion of the conference. Participants (grassland managers and Forest Service administrators from the national office) got down on their bellies to explore the land they manage up close. They then used that experience to make a drawing and to write poetry. It was risky business with the high bureaucrats, but they LOVED it! They kept the loupes (which hopefully will find their way to educators in their respective offices), and listed the activity as one of their favorites of the conference. Which is all a long way of saying "thank you" to you and your efforts to promote these incredible tools!
NEW MEXICO
KATHRYN BREWER - "Making Activities Thrilling with The Private Eye"
PRISCILLA LOGAN - "Loupes and Classroom Management"
SUSAN WING - "Art and The Private Eye"
JANET KAHN - "Fine Arts and The Private Eye"

KATHRYN BREWER
Director of Educational Programs
Earth's Birthday Project

I recently visited a first-grade classroom where students were looking at ladybugs. Their Private Eye loupes made this activity thrilling and magnitudes more educational than it might have been otherwise. Now that science is returning to elementary schools, more teachers have the opportunity to make close observation one of their everyday activities. Earth's Birthday Project is committed to helping you make this happen!"
Return to New Mexico
Return to top
---
PRISCILLA LOGAN
New Mexico Outstanding Environmental Educator of the Year Award

I have been using the Private Eye loupes for about the last ten years. Five years in the classroom and now five years in outdoor classroom teacher training in various schools and districts here in New Mexico. I am a scientist as I majored in Bacteriology and Chemistry and I know good tools. They are the greatest!In the classroom I was a Title One Reading Specialist for 25 years improving student comprehension, vocabulary and thinking skills. The loupes were used outdoors as observing tools and then as the impetus for writing and learning vocabulary words to describe what they saw as well as what they saw reminded them of. They were like "study carrels" in their ability to give students their private space to learn.

In the five years since I retired I have used the loupes in training teachers about how to use the outdoors to improve language arts, science and math skills. Classroom management is one of the stumbling blocks for many teachers as they take their classes outside. One of the reasons for that difficulty is that student thinking skills soar up to the highest thinking skills such as synthesis, analogies, etc. Since students are thinking on that higher individual level, that can make group work more challenging. One of the techniques to handle this wonderful dilemma is to use tools that let students stay at those higher thinking levels while following dictates of the group. The Private Eye loupe allows students to do just that.
NORTH CAROLINA
DEBBIE GOLDBECK - "Principals Executive Program"
LIZ BAIRD - "UTOTES: Outdoor Classrooms and The Private Eye"
LIZ BAIRD - "More Sharing with Bolivian Educators"

DEBBIE GOLDBECK,
Assistant Director
Principals' Executive Program
University of North Carolina, NC

The Principals' Executive Program, established by the North Carolina General Assembly, is a group of professional-level management courses for public school principals, superintendents, and assistant principals; its ultimate objective is the significant improvement of students' performance.

Participants in recent programs have discovered the joys of The Private Eye, finding it an engaging and invigorating approach to thinking skills, creativity and scientific literacy. After one such session, assistant principal Hazel Yarbrough invited me to do a longer workshop for her teachers at Benson Middle School. After that workshop, Hazel wrote the following letter:
Benson Middle School Looks at the World a Little Bit Differently These Days

Benson Middle School teachers in Benson, North Carolina are eager to begin to help their students learn to look at the world with a different perspective as they start to use their new teaching tool: The Private Eye Kit. Assistant Principal Hazel Yarbrough met Debbie Goldbeck last year at the Principals' Executive Program in Chapel Hill where Debbie demonstrated the use of the Private Eye loupes, and she was eager to have her teachers use this tool in her school. On February 6, Debbie spent the afternoon with the Benson teachers demonstrating the ways the Private Eye loupes and process can be used in a variety of classrooms...not just the science classes. While the workshop expenses and Private Eye Kit were purchased with Eisenhower funds, all the teachers benefited from this training session.

A language arts teacher is ready to use the loupes in her writing classes to help her students prepare for the state writing test. She said, "This is perfect for teaching descriptive writing!" The visual arts teacher responded, "It will add a new dimension to my instruction of the photo-magnification process. I look forward to using the loupes and the questioning strategy." Other teachers added, "Use of the loupes and questions will enhance the observation skills of my students", "I think the materials are excellent for expanding creative thinking skills", and "this instructional program will teach students to look for the good, positive, and interesting aspects in all people, things, pieces, and situations all of the time." Mrs. Yarbrough was thrilled to find a workshop that met the needs of all her teachers and helped them see ways to expand teaching higher level thinking skills in their classes.
I want to share a comment similar to those in Hazel's letter, one made by the social studies teacher. He said ... that if students looked at objects using the loupe [with the questions] and began to see them in a different perspective, this skill would carry over to life in general...looking at people and situations in a different way.
The Private Eye at Summer Field Institute: In June, twenty-four educators from across North Carolina and two educators from Bolivia, South America, gathered for a week long Summer Field Institute at Blue Jay Point County Park in Wake County, North Carolina. Each of the North Carolina educators represented a school which had been a part of the "Using The Outdoors to Teach Experiential Science" (UTOTES) program led by The North Carolina State Museum of Natural Sciences and funded by the National Science Foundation. UTOTES is a teacher education program designed to improve elementary science instruction by improving school grounds for hands-on-learning. Educators learn to enhance their school grounds for wildlife and use these habitats to teach all subjects. The Summer Field Institute provides a lead teacher from each school the opportunity to develop strong leadership skills and to learn more about school grounds in North Carolina. We have had educators from Bolivia join us as a result of the Kellogg Fellows program.

The initial outdoor activity had each team of six teachers explore the grounds of the lodge, find interesting natural history items, and flag them with surveyor's tape. After marking their interesting finds, the teams shared what they found interesting with the other teachers. Each team then chose one item to investigate more fully. We called these unique natural history items "Natural History Mysteries". Each participant was given a Private Eye loupe to examine the team's "Natural History Mystery". Everyone was asked to observe the mystery item and to loupe sketch it in his or her journal. After sketching, they used The Private Eye questions to create list of ten analogies. From these observations they went into the field guides to see if they could figure out their "Natural History Mystery".

Each team then shared interesting information they learned about their items. All of the participants agreed that spending time observing and sketching their mystery item made it easier to identify later. They enjoyed using the analogies as they tried to explain the way their mystery item fit into the system. For example, the flower of the wild ginger plant was described as a "little vase". The team guessed that the vase shape would help lure small insects into the flower.

We used the loupes throughout the rest of the week in many ways: when we traveled to the Botanical Garden we looked at carnivorous plants and seeds; paddled into a local lake and louped the aquatic environment; sampled in a mini-pond and identified aquatic invertebrates; and explored a butterfly garden and examined caterpillars. The field sketches created using loupes were outstanding. Many participants have purchased class loupe sets and are reporting great success with student use. The principal at Fuquay-Varina Elementary School commented that the analogies written by her students using The Private Eye were "terrific examples of the value of learning which combines school grounds and language arts." We look forward to finding new ways to combine the unique perspective generated by The Private Eye with our commitment to helping the public gain an appreciation and understanding of the natural world.
Return to North Carolina
Return to top
---
OHIO
LINDA ROGNESS
Department of Chemistry, Muskingum College
New Concord, OH

Teaching teachers how to teach science using a hands-on approach reminds me of Field of Dreams. If you build it they will come, or in terms of science teaching, if you give the teachers the experience of doing science in an active way, they will use it in their own classrooms.

As a scientist and a teacher of future science teachers, I want these future teachers and their students to stretch their minds, discover fascinating things, feel the joy, beauty, and discovery of science, and realize that all sorts of talents go into being a scientist. "The Private Eye" provides one of the windows to this type of an experience.

I make sure all my teachers, pre-service and already practicing, experience the world through "The Private Eye" because the process provides a mix of techniques and skills that cross math, science, art, writing, and whatever else one might want to include.

First of all, "The Private Eye" opens the world of wonder - of seeing the unseen, seeing the missed or ignored, seeing the obvious in a new way. If the teachers can experience that then they will want their students to experience it also. The loupes also add a visual dimension to the material, encourage higher order thinking skills when combined with The Private Eye questions, and draw in students that might usually say science was not for them. "The Private Eye" helps students connect with courses and material that these students dislike as a rule. The process offers opportunities to extend material for Talented and Gifted and allow other Special Needs groups to experience science.

The following selection of comments from some future teachers indicate how they envision using The Private Eye in their classrooms:
"I really thought The Private Eye was great to use. It gives a very different perspective on everyday items. I never knew the pistil of a day lily looked like a slipper. I know if given the opportunity I would love to incorporate The Private Eye in my class. I know it would open my students' eyes and minds to different perspectives of everyday things."

"The Private Eye activity was very interesting to me. Growing up we have never had activities like this. Using the Private Eye can be done in various ways for all age levels and abilities. It can allow students to look at things that interest them, not just 'certain' things. Many subjects can be incorporated from Language Arts, Math , and of course Science. Finally, if an adult was amused and found it fun and interesting, what do you think a child will do?"

"The Private Eye is a really cool way to explore parts of various objects. When viewing my own hand I was fascinated with the brainstorming ideas I was experiencing. I would like to use the Private Eye activities in my classroom. Having children brainstorm about what they are seeing magnified creates many great exercises and lessons."
---
We both loved exploring the great outdoors, especially on field trips to The Land Between The Lakes and our own Tennessee backyard. We would venture off through wooded trails louping various deciduous tree leaves, acorns, tree bark, and local vegetation. Really, we louped as many things that would present themselves. I say, "we," because as a home-school mom, I was involved with my son in his educational experiences. I loved hearing him express what he was seeing up close and personal with the loupes. The ability to magnify the everyday items we saw at a glance became more real and alive!
My son has long past middle school as now he is in his last year of college at the University of Oklahoma. He has excelled in academic studies. His verbal abilities and analytical thinking skills shine through in his writing. I, on the otherhand, returned to Cache Public Schools in Cache, Oklahoma as a Special education teacher where I've been working with students in Reading for grades 6-8 for the past eight years.
What brought me back to look at The Private Eye materials is that I had been given a new additional assignment to teach Writing Language Arts (ELA) for grade 6. This prompted me to look for avenues in which young students would be engaged in writing. I wanted something that I believe would engage the students in the assignment; something they could personally own and experience for themselves. I remembered how enthusiastic my own son had been at exploring the natural objects, louping them, discussing their value and perspective through the use of analogies.
With an opportunity to apply for a grant, I took to writing my proposal for The Private Eye "World-In-A-Bag" kit and Magicscope. I explained how the program is aligned to Common Core, a big proponent and focus in today's public schools. After submitting the grant, a few weeks later, I learned I had won the monies to secure the needed items for my Special Education English/Language Arts classes!
I can hardly wait to get started with the loupes and materials so that my students can go on their own investigative inquiries and writing opportunities! I am going to utilize The Private Eye materials in our writng projects with emphasis on figurative language and poetry writing. Of course, I hope that will only be the initiation to a great many other explorations we will do with The Private Eye loupes.
---
OREGON
DONNA RAINBOTH - "Jeweler's Loupes as Field Microscopes"
GINERVRA RALPH - "Schools Projects: Specialized Training Program"
PAULA WILKES - "Leveling the Playing Field"
BETTE KASOW - "The Private Eye and Writer's Workshop"

DONNA RAINBOTH
PEERS Program
Eastern Oregon State College, OR

Jeweler's Loupes as Field Microscopes: Four or 5 years ago my good friend and teaching colleague, Sharon Freeman, came home from a science conference exclaiming about the outstanding session she had attended and the great tool participants had been given at the end of the session. The session she attended was the Private Eye and the tool was a simple jeweler's loupe.

I work in Natural Resources education and facilitate several workshops each year. Every since Sharon brought that jeweler's loupe home it has become a standard tool at most of my workshops. Teachers often leave our workshops with a loupe in hand. We use the loupes primarily for viewing spiders, insects and aquatic macroinvertebrates and in using them we have made a few germane discoveries (about the loupes, not the bugs).

The Private Eye's loupes fit perfectly into film canisters. You can place the specimen you want to view (spider, ant, bug) into the canister and use the loupe as a top and as a magnifying viewer. The loupe can be slid up and down in the canister which allows you to change the focal length and consequently the focus. We use the clear or opaque canisters. The canisters are free and the loupes cost $2.30. So for less than $75 you can have a field microscope for every student in your class.

The fact that water does not harm the loupes makes them ideal for aquatic studies also. We capture aquatic macroinvertebrates such as mayfly and stonefly larva, put them into a petri dish with a small amount of water, and put the loupe right on top of the specimen. This way the critter can't move out of sight and students get a magnified view of it.

I love using the jeweler's loupes and I am pleased to be able to share our discoveries with other teachers.
The workshop's second day, entitled "A Closer Look at Louisiana", first featured a presentation by the Festival's artist-in-residence from Lafayette, Elemore Morgan Jr., and then a wonderful, all-too-short, introduction of The Private Eye with 5 middle school students instructing the teacher participants. With background music by the Savoy-Doucet Cajun Band, we took a "closer look" at typical Louisiana flora and fauna, including shrimp, okra, oyster shells, sweet gum balls, sugar cane, rice, chili peppers, honeysuckle, and sliced corn on the cob, (unfortunately the crawfish harvest failed that week or we would have examined them too).
It was a great opportunity to discuss many aspects of Louisiana's agriculture, food, and climate, as well as having adults and youngsters exploring through The Private Eye together.
SEE THE
DRAWINGS
TEXAS
MARK WAGGONER - "Texas Science Teacher's Conference 2006"
JAMIE LONG - "The Private Eye and the Texas Regional Collaboratives for Excellence in Science Education"
TEXAS EDUCATORS - "What Texas Educators Say About The Private Eye"
LAURIE PICKEEP - "Schoolwide Literay Magazine"



MARK WAGGONER
Washington/Jackson Elementary Magnet
Wichita Falls, TX
Program Chair Texas Science Teacher's Conference 2006

My presentation this past week of The Private Eye went great. This is the best response I've had. I was able to walk them through the whole process. Usually I have teachers spend more time just visiting. This time they were thoroughly involved and shared many ideas. Many noted they would love to have class sets. Our science resource center was interested in building a kit using the loupes and ideas. I really tried to promote the book. The more I read it, the more excited I become. This has been such a rewarding experience. The best part was that the Superintendent of schools walked through and commented on the program. He wants me to present to around 100 language arts teachers on November 28th. It went over so well with the science teachers. I know the language arts teachers will enjoy it as well.
JAMIE LONG
Language Arts/Dyslexia Specialist
Region VII Education Service Center
Kilgore, TX

I would like to share my experience with The Private Eye Project with you as I feel this program opened not only my eyes, but my mind, heart and soul to a deeper understanding of the learning process students must go through to connect with what we teach

.As a middle school reading and science teacher at Slocum ISD in Elkhart, Texas, I searched for ways to get my students to connect literature, writing and science with real world situations. From new reports, to field studies and environmental research I tried to make learning a fun, life-long skill for my students.

I became a member of the Texas Regional Collaboratives for Excellence in Science Education which is a "state wide network of K-16 teachers across the state." [from http://www.thetrc.org/edu/]. I eventually became a Science Teacher Mentor (STM) within the Collaborative which meant that I had to mentor at least five teachers and help them find ways to improve their students' success in science. I learned so much from working with so many teachers. We truly mentored each other and found many successful tools to motivate our students. As a member of the Science Teachers Association of Texas, I attended The Private Eye workshop at the Conference for the Advancement of Science Teaching (CAST) in November, 2004. I was literally moved to tears as Kerry shared the success stories of students who would not/could not write well enough for success in the classroom until they used the loupes to study something a little closer. I knew I had to get my hands – my students' hands – on these loupes!

I personally bought a set for my classroom. I introduced my students to the process and the results were amazing. The kids wanted to keep their work and unfortunately I did not make copies before returning the products to the students. However, I left the loupes on my desk and students would ask to use them to look at things they brought from home or found on the campus grounds at various times throughout the year.

As a part of my membership in the Texas Regional Collaborative, I was required to present two workshops over activities or lessons that had been successful in my classroom at a Mini-CAST in February, 2005. I immediately thought of The Private Eye! The teachers were as excited as I was about the program and could not wait to use it with their students! I knew I would want to present this again! There are two things I love about being an educator – 1) seeing the students' faces light up when they make that real-world connection, and 2) seeing that same reaction in the faces of teachers when they know they have something that will reach those kids who need something special to hook them on learning!In May of 2005, I was offered a dream job as a Middle School Language Arts Specialist for the Region VII Education Service Center. It was very difficult to leave the classroom as I felt that I was abandoning my students whom I loved so dearly! But I knew that this new job would allow me to reach thousands of students as I worked to find programs that integrate language arts with the other core subjects: science, social studies and math. I knew right away that The Private Eye was one tool I could use to show how well integration works to open the minds of all students in every grade level – especially middle school students.

In July, 2005, I presented The Private Eye Project to about 60 teachers at the Texas Regional Collaboratives for Excellence in Science Education Annual Meeting which was held in Austin. I tried to keep my emotions in check as I presented, but I get so excited about the program and no matter how many times I read the poems on the student examples, I get a little choked up. I wish I had a picture of every face in the room as I shared the artwork and the poetry produced by the students at all grade levels. The "oohs and aahs" and gasps for air filled the room with each piece of work shared.

As the teachers shared their own writing about the palms of their hands, the room fell silent in awe. One teacher said, "I didn't know I could write like that." Some teachers could not pick their chin off the floor fast enough as they sat in amazement of how the process reached deep inside their souls! Three teachers approached me in tears as they were just amazed that there was hope for so many students who may have otherwise been overlooked. These teachers knew that they had a tool they could take back to the classroom and help students make that connection between writing, art and science.

I stood with tears in my eyes as a veteran teacher thanked me for saying publicly that all students are "gifted" students and it is our job to give them the right tools to discover their own gifts! Another veteran teacher who was just moved to the 5th grade and was told she had to teach Language Arts and Science was overwhelmed by the idea that she had to find a way to teach all those objectives. She knew that the things she learned in that workshop would help her integrate so many of the objectives and she was excited about starting the new year.

I am very excited to see the success of these teachers and their students. I can't wait to share The Private Eye again and again. It is a marvelous process that helps students reach higher levels of critical thinking as they analyze the world they live in!Thank you David and Kerry for allowing me to share this tool and process with so many GIFTED people!
WHAT TEXAS EDUCATORS SAY ABOUT THE PRIVATE EYE

"AWESOME! The best presentation at CAST this year [2004]. Every teacher in the room thoroughly enjoyed the science lesson. I felt so inspired by your program…."
— Michelle Henry, Teacher, Mesquite ISD, TX

"The thinking behind the Private Eye is marvelous. It's a powerful tool for teachers of most disciplines. The processes and strategies employed are as powerful for the English Language Learner (ELL) and the special needs student as they are for the gifted and talented student."
— JoAnn Montes McDonald, Project Director, South Texas Rural Systemic Initiative Assistant Professor of Teacher Education, Texas A&M University - Corpus Christi, TX

"Principals at the various schools said The Private Eye made more impact on their students and teachers than anything else."
— Dee Goldberg, Science Resource Coordinator, Spring Branch ISD, Houston, TX

"I know you hear it, but it bears repeating...the program works wonders! I presented the "quickie" version to our district teachers of the gifted and talented K-5, bringing some samples from my past experiences. They were so excited to go back and try the program.. …. Even today, as I did a designer bug lesson, the excitement from the students was overwhelming. Thanks, thanks, thanks!"
— Karen Hardy, Teacher, Humble ISD, Humble, TX

"I attended your workshop at the CAST conference in Corpus Christi last week and I was truly amazed by the experience I had with the jeweler's loupes. I bought your book in the exhibit hall and I have shared the loupes with my students. THEY LOVE THEM!!"
— Jamie Long, Language Arts/Dyslexia Specialist, ESC Region 7, Kilgore, TX

"I just got home from CAST in Houston - I couldn't stop talking about the workshop. I want my kids to experience this - open their eyes. Thanks for the great presentation!!!"
— Sabra Paul, 7th Grade Science Teacher, Sugarland, TX

"The Private Eye is a great researched-based resource for inquiry-based instruction, writing integration with science, and creative sparkler! It's such a profound concept made simple."
— Becky Wivagg, Science Resource Specialist, ESC Region 12, Waco, TX

"Nobody's as good as David and Kerry. If I could have a million of their workshops it wouldn't be enough. The teachers just ate it up. They just loved it."
— Patsy McGee, Science Resource Coordinator, Beaumont ISD, TX

"My teachers were so excited about the workshop and kits. I've never seen something so powerful as The Private Eye!"
— Sara Flusche, Lab Facilitator, North Central Texas College, Gainesville, TX
---
VIRGINIA
NANCY LIBSON
Director, SPARK
Cultural Arts Exemplary Project
Claremont Immersion School
Arlington, VA

[SPARK grant summary … "We chose The Private Eye as an inaugural program to introduce our new exemplary project in the cultural arts."
… The Private Eye is important because it provides a methodology for all teachers and students to embrace within individual classrooms while also providing the opportunity for interdisciplinary study throughout the school." ]

In August, 2007 we had the wonderful opportunity to have David Melody and Kerry Ruef present an all day workshop about The Private Eye to teachers and staff at Claremont Immersion School in Arlington, VA. Teachers naturally have a curriculum in place and The Private Eye allows for the teacher to work with students to look closely, (in this instance with a jewelers loupe) to slow down and examine the subject area, to question and as a result to become better thinkers, questioners, and problem solvers. This model embraces important learning practices and it was chosen because all teachers can benefit from the skills set.

While lessons that integrate areas of study and [The Private Eye] program have spanned the grades and disciplines —we are also enthused that teachers throughout the grades have been inspired to utilize The Private Eye for select lessons. Already fifth grade and Art are working together to examine science, poetry and art. They are incorporating the various aspects of The Private Eye methodology. Grade two has been inspired to work with a team that includes technology, science, art, poetry and Private Eye processes.

In December the staff at Claremont had an in service presented by our Exemplary Project in the Arts (SPARK) director, Nancy Libson. The objective of the afternoon was to review The Private Eye process, renew enthusiasm, and address additional aspects of The Private Eye. We chose The Private Eye as an inaugural program to introduce our new exemplary project in the cultural arts. We are developing partnerships with area cultural institutions and our goal is to partner each grade with a cultural institution. The Private Eye is important because it provides a methodology for all teachers and students to embrace within individual classrooms while also providing the opportunity for interdisciplinary study throughout the school.
---
WASHINGTON
GRETCHEN COE - "From My Garden to Ancient Greece"
LIBBY SINCLAIR - "Molly Can't Draw?"
KIM HUGET - "Cancer Prevention Study"
MERIDA SCULLEY-DIXON - "Clear Communication"
LIBBY SINCLAIR - "Money, and Dusty Miller and the Inuit"
JOAN FISET - "Accessing the Imagination"
MONA HEIN - "7th graders and Kindergartners Team Up"
KINDRA ANKNEY - "The Habit of Looking Closely"
KINDRA ANKNEY - UPDATE (15 years later!)
MEGHAN JOHNSON - "Excerpt from a Grant Proposal for a Private Eye Class Kit"
CAROL FLETCHER - "Theorizing with The Private Eye"
SANDRA VANDERVEN - "Substitute Teaching With The Private Eye"
DIANE GARMIRE - "Art Infusion and Gifted Education "

GRETCHEN COE
Asa Mercer Middle School,
Seattle Public Schools
Seattle, WA

[Note: Unlike the other field reports in this section, this letter first appeared in The Writing Notebook, January/February 1994, but we wanted to share it in Field Reports. In a moment you'll see for yourself why.]

Revelations come at all times and places, it is said. Yet, I hardly expected such insight while on hands and knees weeding my flower garden. Not long before, I'd attended a Private Eye workshop for our middle school staff. Now a week or so later, I was scrambling around on all fours, jeweler's loupe in place, discovering the flora and fauna of my backyard. The Private Eye questions, "What else does it remind you of?" and "What else does it look like?" played a litany in my consciousness.

My awareness had been altered. Analogies leapt out at me like fleas off a dog. Poets, sports writers, politicians were flooding me with analogies, and I'd only just realized it. Analogies had begun to invade my own writing, stealthily at first, purposefully later.

When I returned to the classroom my students predictably devoured the lessons using loupes. Their drawings and poems shimmered proudly on the bulletin board. But the true breakthrough came on a day when the loupes were snugly resting in their plastic cases. In a discussion of Sounder, my class was thorough in the who, what, where, and when. But I felt they were missing the heart of the book. Unexpectedly, I heard myself say, "What else does it remind you of - you know, in real life?" Slowly hands poked up. What followed was a tapestry of stories about loss - grandparents, parents, siblings, pets, respect. When each story had been told, we sat quietly cloaked in the depth of our own experiences. At last we found the heart of Sounder and it was our own.

That one experience became the springboard for my writing instruction. Every year, as part of the study of ancient Greece, we study and write fables. This year we initially examined fables using the Private Eye questions, "What does this remind you of (in real life)? What student is like the hare and who is like the tortoise? And why do you think they're like that?" Not surprisingly, the quality of the fables exceeded any of previous years. Even more noticeable was the purpose with which they wrote. No more "I don't get it. What are we supposed to write?" The Private Eye provided the catalyst for making the essential, personal connection.
---
LIBBY SINCLAIR,
3/4th Grade Multi-age Classroom
Decatur Elementary School
Seattle, WA

Here's my Molly story.

Last year my students did a picture-book project - using The Private Eye. They wrote stories and illustrated their writing. Third grader Molly was very frustrated. Although she had written a piece she was very fond of, she put her head down on her table and said she "just hated the drawing part" because she was "no good at drawing". The whole notion plagued her until she solved it by enlisting a fellow classmate as illustrator to help her finish her book.

A year later fourth grader Molly was working on a research project which involved illustrating a series of postcards. To my surprise I overheard her offering to be her group's illustrator because "I'm pretty good at drawing." My theory about this change in her opinion of herself is that repeated experiences with The Private Eye gave Molly some new ways to think about drawing and gave her increasing confidence in her work over time.What a treat to be a teacher and watch a student make such a change!
I want to thank you for the loan of the Private Eye materials and for your invaluable advice and suggestions about using the materials. The Private Eye was a success at our retreat. We all enjoyed looking, with amazement and wonder, coming up with analogies, and theorizing, as well as thinking up ways to test our ideas. The next thing you know the CARET study center staff will all be writing grant proposals for research projects!We didn't use dusty miller plants at the retreat. The day I went to the Seattle Garden Center in the market the dusty millers were looking a little pathetic, so I got another furry-leafed plant, Plectranthus argentea. P. argentea worked well. It was surprising how many analogies we all came up with. This plant was particularly fascinating in that the tiny, brownish spots you could see spread al over the top and bottom of the leaves when viewing them with loupes turned out to be, when viewed through the dissecting microscope, translucent, red globules. They reminded me of ornaments on a Christmas tree. We wanted to dissect some of them from the leaf we were examining, but were unable, for lack of dissecting tools. At any rate, our observations led to a discussion of what their function might be and how we could test our hypotheses.We unfortunately ran out of time before we could do any drawing--a real disappointment. Despite that, doing The Private Eye was fun and pretty amazing. Highly recommended--and it ain't just kidstuff! Again, thank you for all your help.
Fingerprints

My print looks like the theater seats,
the growth lines of a tree.
Its grooves and lines remind me of
the ripples on the sea.
As dry, as cracked, as desert sands,
an alligator's skin,
as parched, as old, as Canyonlands,
this is where my prints fit in.
A Flower
A flower is a star,
it stays like the starbright moon.
Soon
the moon
will hide
softly,
under my bedsheets.

— Liam Dixon, age 8
Dusty Miller
Like a great tree,
coral branches sag
from the weight of a fine snow
that surrounds them.
Yet the strange tree stands alone,
snow gently melting
on its leaves.


— Alex Fenner, grade 4
Undertow

Rolling hills call your name
above the endless tunnel.

Flashing lights warning
of danger, footprints

melt as you look, swirling
down a storm drain

out to sea. Footsteps
underwater, cells multiplying in

overgrown seaweed waving
through water like limp swords

protecting the ocean floor.
Wandering through darkness

you can still hear
echoes of your wishes.

— Joel Barham, grade 12
WEST VIRGINIA
GENEVIEVE BARDWELL - "Energy Systems, Insects, and the Private Eye"
BRENDA YOUNG - "Kindergarten Descriptions"

GENEVIEVE BARDWELL
Curriculum Coordinator
Health Sciences & Technology Academy
West Virginia University, WV

I spied The Private Eye loupes at the national NSTA meeting in New Orleans. Intrigued, I bought three of them, along with the book. After initial examination of the book, I was hooked with using the loupes and "thinking by analogy".As part of the Interactions with Energy project, another teacher and myself were designing an "Energy of Living Systems" module to share with teachers during a Eisenhower Professional Development workshop. The "thinking by analogy" activity using the loupes was a perfect introduction for our module and fits in precisely with the methods prescribed by the new National Science Education Standards and Benchmarks for Science Literacy. We bought sets of 25 for each of the elementary and middle school teachers in our workshop. By initially making observations of insect life with the loupes, participants became familiar with scientific processes. Pictures were drawn (recording observations) and analogies were made. From the analogies, the teachers came up with various hypotheses that addressed their questions, such as "How do insects obtain energy?" and "What are the functions of specific insect body parts?". Once a hypothesis was formulated, this led to designing a set of procedural steps, which addressed the original question. This strategy is outlined in The Private Eye, and enables teachers to involve their students in experimental design. From presentations I have given to teachers, I have heard many comments that praise the ingenuity of the loupes and "thinking by analogy". Any tool, whether hand held or a "thinking" tool, that makes the National Science Education Standards easier to follow, will be welcomed by many teachers as they begin to re-align their curriculum.
CANADA

BRITISH COLUMBIA
IAN HARGREAVES - "Can You Guess? "
IAN HARGREAVES - "Report From the North"
ELAINE HUMPHREY - "Scientist in Residence at the Vancouver School Board"


Amethyst

It looks like a scarred
Dinosaurs head,
And the rough crags
Of a mountain range.
It reminds me of a
Purple gravel bed,
And of a cow with a
Nose so strange.
It looks like the crashing waves,
At Torrey Pines, CA.
And it reminds me of a canyon.
It looks like the soft sunrays,
On the wrinkled hide of an
Elephants head.
It reminds me of
Little suckling piglets.
And their mamma pig
Overhead.

— Hannah A. de Putter

Agate

It looks like I'm in a galaxy,
Or maybe I'm not .
It looks like I'm in a crystal cave,
Or maybe I'm not.
I think I'm on Mars,
Or maybe I'm not.
Oh no it's exploding,
All space is exploding,
Now it is raining
All purple raindrops.
The soundwave it's killing me
My ears are exploding.

— Tessa Lee Goodwin

What am I?

My eyes are like a kaleidoscope,
My wings are like four screen doors,
I have a long tail,
When I fly I look like a B-52 bomber,
Some of us are green while others are blue,
Some of us have a wing span of four inches,
like to eat mosquitoes.
What am I?

— Samantha Krystel O'Leary-Luzney

Fingerprint

It looks like a whirlpool
Turning roughly in waves.
Up above, a rainbow with tons
Of colours, like a mess of paint
Spilled like wrinkles on a face.
It reminds me of the rings
On the trunk of trees
Scattered like shoelaces.
Its like the blood-red veins,
In your eye. The eye looking
upon the designs of a dress.
It reminds me of the busy traffic
On a Saturday afternoon.

— Janine Galandy

Sea Urchin

Volcanoes resting on purple skin
Garter snakes intertwined
Hills and mountains and pentagons sure are a big surprise!
Tentacles waving to and fro,
Many eyes a-watching.
Flesh like apricots,
To have a loupe look,
Is to see the world,
From a bugs eye view!

— Shea Wyatt
LUPITA BENITEZ
Leon, Gto Mexico

I attend a workshop at the AMS [American Montessori Society] Meeting in Boston last April. I enjoyed it so much that I decided to buy 20 eye loupes for my class. I started with the hand exercise. Then I gave each child a flower from a bugambilia plant. They looked closely with the loupe and wrote ten observations. Then they picked their two favorites to share in the circle. We did it like the sandwich poem idea. After all of them shared everyone was quiet in wonder and astonishment: They had actually created a poem! I couldn't believe it either, children are indeed full of poetry! I'm planning to make a little book with the children's poems to give their parents. Thanks a lot!

See the poems...
---
CATHERINE C. ZUSKY
Darthmouth College

I worked for two years at an elementary school in the Marshall Islands, and I used the Private Eye loosely in my 6th grade classroom. I was working with students who had very basic English ability, and I was supposed to be teaching them science. Science can be hard to explain when there is a major language barrier, and I found the Private Eye to be a good way to explore and investigate without having to use difficult language. The Marshallese teaching culture also does not traditionally incorporate hands-on learning, so the Private Eye was a totally new kind of learning experience for my students. I used the Private Eye book and the little microscopes in both a coral unit and a plants unit. In both, each child investigated different types of coral/plant and each of its parts through the microscope, worked on drawing it, and making models based on the shapes they saw through the lens. We did a bit of making analogies, looking at each child's drawing and thinking of what else it resembled, or what shapes and patterns we saw. The kids absolutely loved the mini-microscopes, and were very excited to experiment with the different magnitudes when putting them one on top of another. The Private Eye worked very well as a multi-disciplinary tool, involving science, art, and language learning. Although I did not use the Private Eye all year, or in every unit, when I did use it, the kids loved it and it seemed to work well for them in understanding the inquiry and hands-on part of science.
---
JOOP STOLTENBORG
São Paulo, Brazil
Fall 2007
My wife Tini and I, born in Holland, live 26 years on a small farm in the state São Paulo 250 east of the city São Paulo. Before, we lived 14 years on a Dutch colony, called Holambra, 150 km from São Paulo. On the farm we grow and sell organic vegetables and fruits that are sold through a home delivery system. Seventy percent in the city São Paulo and 30% in neighbor towns. Together with the vegetable box goes a newsletter that has an article, 4 recipes and health information. This same information is also in our web site www.aboaterra.com.br.

The articles from the last 25 weeks are translated to the English language as you can see at the homepage on the left hand side below.

Four years ago we started an ecology program for visitors and school kids with 3 options:
sensabilisation to the nature (4 hours)

Learn about organic vegetables and fruit growing (4 hours)

Learn more about food and alimentation based on the book "Eat to live" from Joel Furhman
In 2005 and 2006 we received 9.000 visitors, 70% kids from 5- 12 years. Most of the schools don't have money the pay for the cost so we found a sponsor who helps us for the cost of food and monitors.

From a lecture of Fritjof Capra in Brazil (3.500 participants), some years ago, we heard about the Center of Ecoliteracy in Berkeley, CEL and the workshops "Rethinking school lunch" were we participated 20-22 June 2007 and got the book "Ecoliteracy" with Kerry Ruef's article "The Loupes Secret……………….."

With the knowledge we received in Berkeley we have adapted our program and started with one school from the neighbor town Itobi, to use our vegetable garden and the nature we have on our farm for the children (8 to10 years)
For that program we want to use The Private Eye.

From what we read about it, it seems fantastic. We are very curious to receive The Private Eye book, the jeweler's loupes, and start practicing the process.

Sincerely,

Joop Stoltenborg
Sìtio A Boa Terra (The good Earth)