During two glorious spring days in May, 2006, a group of Alabama teachers wandered among the Birmingham Botanical Gardens— exploring with a Private Eye loupe to the eye (a magical magnifier) —and with The Private Eye Questions to magnify the mind. The workshop is one of the 2-Day Workshops we offer.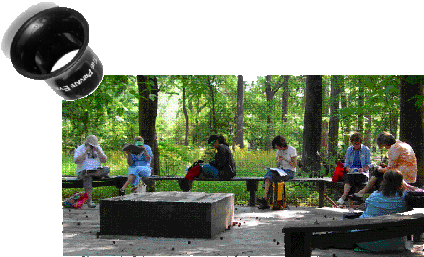 Peering into flowers, leaves, bark and at pollinators woozy on pollen, the teachers gave over to beauty and science and poetry, asking questions to provoke "thinking by analogy." Answers became "bones-for-poems, stories, reflections"— and clues for hypothesizing.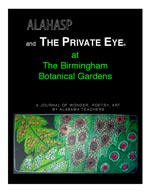 ALAHASP and The Private Eye at The Birmingham Botanical Gardens
Eye-to-eye with leaves, flowers, bark and bugs, the teachers wrote and drew, inspired by The Private Eye process. This gallery represents the outcome of those encounters, exhibiting selected works (limited due to space restrictions), from our booklet: ALAHASP and The Private Eye at the Birmingham Botanical Gardens: A Journal of Wonder, Poetry, Art by Alabama Teachers (pictured to the right). The 34 page booklet is the complete collection of writing, art, and theorizing done by workshop participants during this workshop.