The Private Eye Class Kit


To make it as easy as possible to bring students and teachers to "other worlds" quickly, we have designed The Private Eye Class Kit.

In the Kit, along with a Class Set of Loupes and the items listed below under Class Kit Contents, you will find "The World In A Box®" - where the first stage of fieldwork is done for you. It is presented at "desktop" scale - a kind of tabletop fieldwork for looking, writing, drawing, theorizing.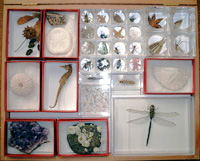 ® looks, at first glance, like a little art museum. It holds a mix of specimens reflecting the variety and visual interest of the real world. Nature is heightened, framed beautifully, to get the looking going fast, and with intensity. The real world is where the artist, scientist, writer, all begin and return to almost daily for the material and source of their work.
"The World in A Box" is carefully presented for maximum learning effect. It inspires students and teachers to begin looking closely at the world, and, after doing their own fieldwork, to apply these lessons in selection, preservation and framing.
A Class Set of Loupes (5X) 36 loupes in 2 poly-grid cases

The World In A Box® (36 specimens to get the looking going fast)

A class set of magnifier boxes (4X), with tube of Jeweler's glue

20X Brock Microscope, durable, easy to use, built in light source, superb lens quality

Video Introduction to The Private Eye, (8 min.) Seminar & classroom use

Teacher Guide, laminated or paperback (240 pp)

The Private Eye Poster

Resource books and videos: Powers of Ten video; The Practical Entomologist (or nature guide for your region); Art Forms in Nature; Adventures with a Hand-Lens

The Private Eye Inquiry Poster Set, 6 posters

The Private Eye Tub




One Kit per class is ideal, but three to five Private Eye Kits often rotate (like a library book) per staff of twenty. To make the process a daily habit, each teacher should have an individual Class Loupe Set and Teacher Guide. Many schools and classes assemble their own "World in a Box" and put together their own Kits. We have items below to help you do this.

Price: With paperback guide: $635; with binder guide: $715
---
®
Same interior layout as The World in a Box, only YOU provide the specimens!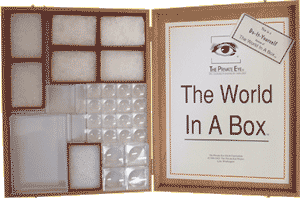 9"x13'x2.5' sturdy redwood box, hinged back, clasp on side; filled with 31 assorted containers (magnifier boxes, acrylic boxes, etc.) for holding your own specimens. Includes insect preservation instruction sheet and jeweler's glue.
(See pp. 69-71 in The Private Eye teacher guide for specimen suggestions.)




Price: $67.95
Kit items are also available for separate purchase.
---

---
A few more items and an additional loupe to engage two-somes and small teams.

.


Like a small museum, this handsome alder wood box reveals:



two loupes
amethyst
sea urchin test
paua shell
poppy seed pod
starfish leg
preserved beetle in magnifier box
cypress sprig in magnifier box
jasper
orange mesh
light bulb
the booklet The Private Eye — Simple Steps to a Magnified Mind (Ruef, 2003).
---
To enhance team discoveries and The Private Eye experience, combine the Team Loupe Set with the Mini World-in-a-Box® (the same table-top specimen set used in every Private Eye Workshop). Perfect for table teams and Homeschool groups!
.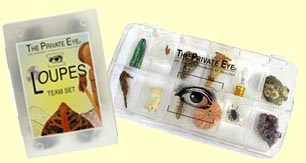 Features:

six loupes in a plastic case
microfiber cleaning cloth
amethyst
barnacles on rock
sea urchin test
paua shell
poppy seed pod
preserved beetle in magnified box
cypress sprig in magnifier box
seahorse
stonefly in specimen box
jasper
vertebrae
light bulb
Price: $69.75
Back to Materials