Bubble Homes and Fish Farts.
By Fiona Bayrock. Illustrated by Carolyn Conahan. 2009
(TPE REVIEW)

| | |
| --- | --- |
| | This book is wonderful for any age. Fascinating, scientifically accurate bubble information. Also, you'll find design ideas by analogy: "what else does this bubble remind you of? |
Start by going up really close and personal with bubbles, yes, by louping them (read how below). Then read selections of the book aloud to any age student; students grade four and up can read it for themselves. The book is alive! Each bubble-fact brings you into worlds-within-worlds, so entertaining and unexpected, that the book will fascinate anyone. (For older students… any given entry could trigger a sophisticated science project.)
You'll learn how Humpback whales use bubbles for fishing, how some fish use bubbles for talking, and how engineers used bubbles for saving animals when they rebuilt the San Francisco Bay Bridge. There are sixteen big, beautiful two-page spreads, with lyrical watercolor illustrations; each spread features one bubble-world fact, captured in a single paragraph that feels like a story. It's a perfect model for how to write with analogies (metaphors and similes) to make concepts visual and clear. And the passages have a sense of humor. Need we say more?

| | |
| --- | --- |
| | Make a Loupe-Bubble Bag: Shake a zip-top bag (or clear bottle) filled with an inch or so of water with a few squirts of dish detergent added. Let the bubbles settle and compact a minute. Loupe view all the ways bubbles connect: spheres, pentagons, hexagons. Itís wild. Itís math. Itís science. Itís natureís engineering. Ask your Private Eye Questions. Now open the book. You donít have to read sequentially. This book makes the importance of bubbles come to life. |
Book first suggested by Chris Boyer, recently retired teacher. Chris happily contributes to the Book Corner because she loves The Private Eye and uses it when she tutors.
I happened upon this as I was browsing the shelves for the kids I'm tutoring. They loved it by the way and I brought a bottle with soapy water and the loupe so we could really see what we were reading about. —Chris Boyer


-------------------------------------------------
Swirl by Swirl: Spirals in Nature, by Joyce Sidman 2011
reviewed by Chris Boyer, Jackson Elementary School, Hillsboro, OR.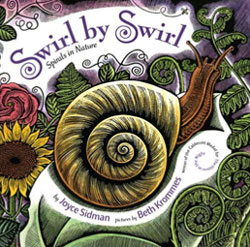 This picture book is intended for younger children but the thoughtfulness in the pictures and concepts makes it a perfect book for TPE connection. Author Joyce Sidman and pictures by Caldecott Medal winner Beth Krommes combined well to create this one! Even the copyright info is written in a spiral and the dedications are delightful! For Clara and Ethan, who take time to look and ponder. For Dave and Aunt Helen, who find all of nature endlessly fascinating. And for Ann, who swirled our ideas together.
Ideas include; snail shells, snakes, pinecones, hibernating animals curled in burrows, nautiluses, lady ferns, hedgehogs, millipedes, octopus arms, spider monkeys, elephant trunks, butterfly proboscises, orb spiders, flowers as targets for pollinators, ocean waves, a tornado, galaxies, and DNA helixes. The pictures almost invite a "where's Waldo" hunt for spirals. It would be an excellent way to get kids to understand the process of "What else does it remind you of?" You could copy pages and pass them out to pairs of students as they made observations of what was on the page in both pictures and words and to and include their own "remindings" . The end of the book includes more in depth blurbs about several ideas in a glossary style.
I love the poetic writing:
(excerpt)
A spiral is a snuggling shape.
It fits neatly in small places.
Coiled tight, warm and safe, it waits…
for a chance to expand.
A spiral is a growing shape.
It starts small and gets bigger,
swirl by swirl.
It unwraps itself,
one soft curl at a time.
A spiral is a strong shape.
...
----------------------------------------------
This Bridge Will Not Be Gray, by Dave Eggers 2015
reviewed by Chris Boyer, Jackson Elementary School, Hillsboro, OR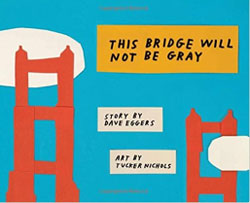 I recently read this, written by the famous (my daughter loves his writing) Dave Eggers. It's about the making of the Golden Gate Bridge and why it is orange. It is a narrative non-fiction which I know is an important current focus in the classroom. Themes could include a study on structure, community, a sense of time/history and wondering why something is the way it is, etc.

Some of the fun quotes are;

"Sometimes the things humans make baffle even the humans that make them."

"This is true: no bridge in known human history had ever been orange. And for a good portion of the human race, because something has not already been, that is a good reason to fear it coming to be."

"And as the bridge continued to rise, and more and more people saw the orange steel against the green hills, above the blue water, below the blue-and-white sky, they said, For some reason, that looks right."