Louping the asphalt? Partner records the revealed worlds.
Visit our Facebook Page. We'll be uploading all sorts of neat ideas on regular basis. Have your students submit their answers to the "What else does it remind me of? What else does it look like" photos on the site
!

Be Happy! Explore the world with The Private Eye!

Hear what people said about our last conference...

NSTA Conference Workshops
Seattle, San Franciso, New Orleans, San Antonio....!


Come to one our sessions!
The Private Eye: Hands-On Inquiry for an Interdisciplinary Mind
—Science, Writing, and Art
Dandelions! Crickets! Eyeballs! Use a jeweler's loupe, everyday objects, simple questions, and thinking by analogy to go REALLY close-up—and develop the essential skills of scientist, writer, and artist in all your students. Explore this acclaimed program for creativity and critical thinking across subjects, K–16 through life. Free loupes, specimens, and lessons.
---
Take a Child Outside (T.A.C.O.) with The Private Eye!
We are please to be a partner with Take A Child Outside, an international program designed to help break down obstacles that keep children from discovering the natural world. "You won't bother to save something unless you first care about it. The Private Eye allows you to care quickly and deeply." Kerry Ruef, Founder and Director, The Private Eye Project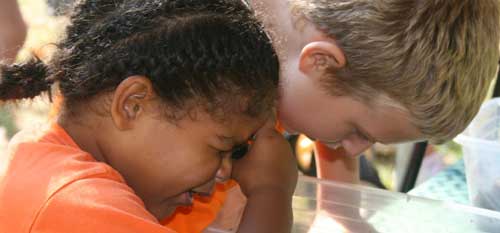 Visit the Take a Child Outside website
---

Preservice Teacher Training – Better Teachers Now
Jeff Self of Humboldt University, California, presidential awardee teacher turned university professor, shares his thoughts on using The Private Eye as the foundation for teaching preservice science methods and critical thinking.


Jeff Self, Humboldt State University
"Every once in awhile we come across a "gem" in our quest for quality educational materials. The Private Eye is a 'gem of gems'! In my thirty-two years of teaching students and educators I have always searched out the best classroom curricula. The Private Eye program fit my integrated curriculum like a glove. We are always looking for materials to teach critical thinking and higher level thinking skills. The Private Eye "loupe-lessons" have been a major element in my students' education for over fifteen years.
I wish I had discovered The Private Eye my first year in the trenches. I know I would have developed better teaching skills if I had. I now teach Science and Math pre-service teachers at Humboldt State University. My "big" kids will have that opportunity. The Private Eye is one of the few programs that new teachers (and veteran teachers) can implement on day-one of their school year, focusing on the development of critical thinking and higher level thinking skills at any grade level.
Using the 5X loupes to inspire "thinking by analogy", every teacher can experience the "Wows" of success. Students develop drawing, writing and calculation skills with cross-curricular lessons. Vocabulary improves through continual dialogue and collaborative sharing. Journals chronicle each student's writing and graphic growth, art projects display their creativeness and outdoor experiences take on a magical dimension using the 5X loupes.
Providing every pre-service candidate the opportunity to work through The Private Eye program should be the goal of every university Science methods course. Just imagine, what a corps of new teachers, really addressing critical thinking and higher level thinking skills, could accomplish in their careers."
---
Fingerprints into Fine Art
The Children's Art Institute of Gresham, Oregon, created an art-making strand for adults in the summer of 2007. Artist and teacher Peggy Kelter, of Hood River, Oregon, led participants on a louped-encounter with their own fingerpints (inspired by The Private Eye fingerprint activity on pages 136-137 in The Private Eye Teacher guide). One participant was the police chief of Gresham--who helped the class make official fingerprints! Another participant, graphic designer and illustrator Sherry Wachter, assembled the class's work into a kind of visual quilt for a poster advertising the Art Institute.

The results are even more stunning when you click for a larger view.

Click on image for a larger view.
---

Art Infusion and Gifted Education
Diane Rowen Garmire, art and gifted teacher from the Libby Center, Spokane, WA, answers the question "How do we prepare our children—our present students—for life in the near future?" If you know The Private Eye fingerprint activity, you'll see that she and her students give a whole new meaning to the word "Goldfinger." Read on...
---

Training-the-Trainers Program




Our first Training-the-Trainers Institute certified the following in-district Private Eye Trainers for the Modesto City Schools in Modesto, California: RoseMary Tomb, Terri Fischer, Janette Schmidt, Cliff Judd, Melody McGill, Bernadette Galvan, Rose Kahn, Henrietta Sparkman, and Kathe Poteet. Since then, they've completed their second year training district teachers in The Private Eye process to enthusiastic reviews. Together they've trained over 330 teachers

In the Spring of 2008 we held a Training-the-Trainers Institute for Houston ISD, the seventh largest school district in the nation. We certified 13 new trainers!
In the Summer of 2011 we held a Training-the-Trainers Institute for Orange County School District, the eleventh largest school district in the nation. We certified 15 master trainers!

Whether your district is modest in size or large, you can accelerate delivery of The Private Eye to teachers and students with a Training-the-Trainers Institute.

---


Eye to Eye with a Snail?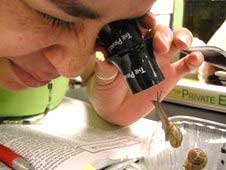 With your Private Eye go eye to eye with a shy snail... and wonder: really— why do snails have eyes raised on flagpoles? How and what, exactly, do they see? And what about their dining habits and lifestyle? "Helix is a relatively clean and simple animal to care for," writes Middle School teacher, Earl Wilson in a Private Eye lab activity he created, (included in The Private Eye teacher guide) entitled: "Slugs, Snails and Puppy Dog's Tails" (pp. 157-159). "They will gladly feed upon lettuce, apples, pears, carrots, etc. Their choice of food would be an excellent research project for the students...'
"Unlike slugs," Wilson adds, "Helix seems to do alright at room temperature. If you choose, you can put Helix into a type of "hibernation" by withdrawing food and moisture." Wilson's lab plan has students working in teams of four and will transform your students reaction to a snail from "ick" to "cool!"
(BTW, for our Private Eye workshops we used to keep a set of traveling snails in salad-bar plastic containers. Between workshops, the snails would seal up like Tupperware®. We woke them with a spritz of water and some lettuce. Hm-m-m. Snails have a sense of smell?) And how does this "hibernation" thing work? Your students will ask lots of questions after going eye to eye with a snail and watching the amazing "Tupperware" act. Enough research projects for all your student teams!
Some teachers have snails participate in a snail circus. Set two platforms about a foot off the ground with a string anchored and stretched between them. Set a hungry snail on one platform and some lettuce on the other and watch the snail balance like a high wire artist to reach that lettuce. And what about the advantages of a life of slime? Once your students spend time with snails The Private Eye way—their questions and hypotheses (and poems and essays and artwork) will multiply and grow rich as they observe and think by analogy.
You might also want to explore snails in the context of Invasive Species — on land and in maritime settings. What about other Mollusca? It just goes to show, riveting inquiries can begin right outside in the garden. (If you—or your neighbors—don't have any snails, residents in most states can order them from biological catalogues.)



---
Guggenheim Study Suggests Arts Education Benefits Literacy Skills..
.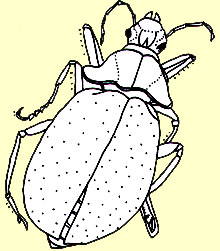 Read this article from The New York Times to learn more about how this study shows improvements in a range of literacy skills among students who were exposed to arts education in the schools. To see how The Private Eye turns students into artists — connected to writing and scientific education — see The Private Eye guide and the student galleries on this website.
---
Book News!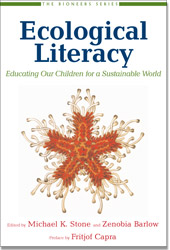 Kerry Ruef and The Private Eye featured in:
Ecological Literacy: Educating Our Children in a Sustainable World.- edited by CEL senior editor Michael K. Stone and executive director Zenobia Barlow
This book presents the Center for Ecoliteracy's conceptual foundations, from ancient wisdom to contemporary science. It chronicles some of the most exciting work that the Center has supported over the last decade, diverse projects that have creatively put those concepts into practice. Authors include Wendell Berry, Alice Waters, David W. Orr, Fritjof Capra, Donella Meadows, and Malcolm Margolin and Kerry Ruef. The book is published by Sierra Club Books and distributed by University of California Press. $16.95, 279 pages.