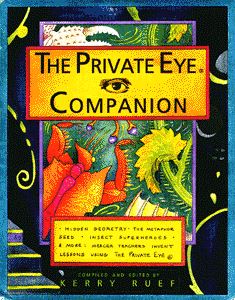 Yes, we are well under way on our second book. It's an anthology of lesson plans across subjects, many designed

by the astute middle school teachers of Mercer Middle using The Private Eye in a year-round pilot program. The book will have the same lively feel as the first book — and be amply illustrated with student work — but the lesson plans will be four to eight pages on average. We think you'll like it if you teach grades 5-9! In fact, these are sophisticated, entertaining, original lesson plans, most of which can be adapted for grades 4-12.
If you would like to be on our mailing list and receive notice when this book is available, please email us!
Back to The Private Eye Teacher Guide

Forthcoming:
The Private Eye Companion Volume I
The Private Eye Companion Volume II and Volume III