Imagine walking into a large room that is a total interactive environment. In the center of the room are tables for the participants to sit at, with five to six chairs per table. Each table is a like a field station with lots of hands-on stuff, including: live fish, live grasshoppers, ponds, strawberries, seed pods, flowers, plants, spiders, etc. Now around these tables is a U-shaped perimeter made up of between twelve to fifteen more tables. These perimeter tables are used to mount the many display panels of student work, resource books, and even more hands-on activities. Additional equipment requirements: a VCR and monitor, an overhead projector and screen, and several tables for the presenters' materials. The room should be well lit since we will be using magnification, with natural light a plus.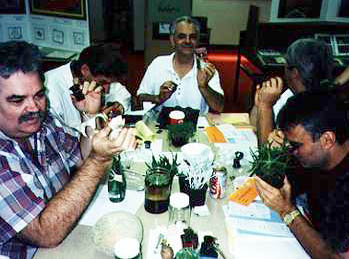 The site must be available for set-up the afternoon before the schduled date; it requires approximately four hours for the instructors to arrange the room and set-up the 450 pounds of display and course materials. An average workshop day begins at 8:00-8:15 with coffee and goodies (supplied by the school). The workshop then goes from 8:30 A.M. to 3:30 P.M. There is a 45 minute to one hour break for lunch and a short break in the morning and afternoon session.


"Your environment was a delight. The activities really turned on the teachers."
— Anne Taylor, Professor, University of New Mexico School of Architecture, Director, Architecture and Children





"What a fantastic day that was! Everyone loved your presentation. Your work is wonderful."
— Dee Goldberg, Science and Technology Resource Coordinator, Spring Branch ISD, Houston, TX